Have you ever tried to teach someone something? If you have had such an experience, you must have understood how difficult this job is. I want you to imagine the difficulty of trying to teach thousands of students for years when it is so difficult to teach even one person. In this post, we list hand-picked teacher appreciation messages to brighten the days of your teachers.
Choosing to be a teacher when there are thousands of jobs in this world, spending years on telling people their knowledge, and preparing them for life is truly an invaluable effort.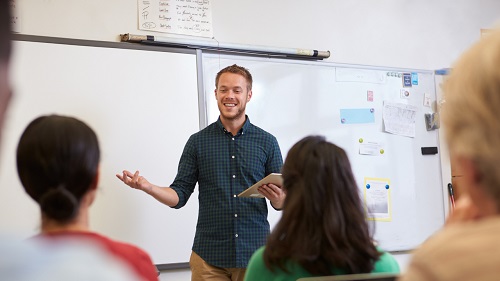 People who choose the teaching profession take the responsibility of educating other people, and the more successful they are, the more our country develops. We must adequately show our gratitude to our teachers who dedicate their lives to raising qualified and characterful people.
119 Best Teacher Appreciation Messages
Here are 119 Teacher Appreciation Messages that will Show Your Teacher How Grateful You Are:
1. Dear teacher, you not only gave me information, but you also taught me to ask questions to reach information, these were the best gifts I've ever received, thank you very much.
2. If I love my job, I owe it to you, my dear teacher, thanks to you, I have found a job and saved my life, thank you very much.
3. Thanks to your guidance, I turned into a completely different person, thanks to your challenging but enjoyable lessons, I have grown myself and regained my financial freedom, thank you very much, teacher.
4. You have managed to become my favorite teacher with your patience and smiling face, I will remember you forever and continue on the path you guided.
5. You believed in me more than I believed in myself, and thanks to your belief, I have become a better person. I am glad to have you, teacher, you are the best teacher I have ever met in my life.
6. Teachers are as important to children as parents, you are the most important person after our family in our life, teacher, thanks to what you taught, we were able to hold on to life and our future anxiety is over.
7. You managed to draw our attention and focus very well while teaching a subject, teacher, so we learned everything you explained very well, thank you very much.
8. Being your student, listening to your lecture is like living in a movie, so we learned everything you told very well, thank you teacher for everything.
9. My teacher, you have equipped me with your wonderful knowledge and skills, now I am ready for anything and I am not afraid of life, thank you for giving me this courage.
10. Even though your lesson is not my field of interest, I listened more carefully than the lessons I liked, this is your success, thank you very much for making me love your lesson.
11. My dear teacher, I owe it to you for understanding the subject that I dislike the most, thanks to your patience and teaching skills, I have come a long way, thank you for everything.
12. You taught me to challenge and get what I deserve, thanks to you, I found the courage to follow my dreams, teacher, thank you very much.
13. Many teachers can explain the lesson well, but making people love the lesson is not something every teacher can achieve, thanks to you, I learned the subjects better, teacher, thank you very much.
14. Every year I became your student, I became an even better student than the previous one, I owe everything to you, my teacher.
15. What we learned from you was not just lessons, you added a lot to us thanks to your view of life, thank you very much, teacher.
16. I used to believe that I would not live more than an ordinary life, but after you become my teacher, I know that I can achieve more.
17. I am sure that none of your students will forget you, but the important thing is to be a student that you will not forget, I hope I succeeded, thank you for everything.
18. If you hadn't met me, I would have finished school as a mediocre student and would never have reached my goals, thank you, teacher.
19. Your way of teaching and your sense of humor were truly fascinating, I owe being a successful student to having a teacher like you.
20. I and my friends would never have been so successful if you weren't a patient teacher to deal with each student individually, we are grateful to you.
21. I tried my best to be your best student, I don't know if I succeeded, but I will be proud to be your student for life.
22. Thank you very much, teacher, for teaching us that we should not work to pass exams, but to prepare for life.
23. I was very lucky to have a great teacher like you, I hope my kids will have a great teacher like you and learn a lot from their teacher.
24. Thank you very much, dear teacher, for helping me not only understand the lessons but also set my goals and dreams well about the future.
25. You took care of me like a parent, not a teacher, thanks to you, I have developed and matured in life, thank you very much.
26. You are the best teacher one can meet in life, I feel very lucky, thank you for everything you have taught me.
27. You are an incredible teacher who fascinates your students, no one gets distracted and never bored while you are teaching, teacher.
28. Thank you very much, teacher, for developing our passion for learning and stimulating our sense of curiosity.
29. What you teach me, I will teach my children and raise wonderful children, teacher, I owe everything to you.
30. You are a great teacher who knows how to touch a person's life and make that life beautiful, your presence is a gift to your students.
31. It is a great chance for us that you have been our teacher in the last year of school, you have suddenly come and changed everything, we are now young people looking to the future with good expectations.
32. Thank you, teacher, for making us come to school with pleasure and raising our awareness.
33. When I encounter a problem in life, I will continue to inspire you by thinking about what my teacher would do, thank you very much.
34. Since the day I met you, I am stronger, more hardworking, and more alive than before, thank you for everything, teacher.
35. I am proud to be your student and I see meeting you as the luckiest moment of my life teacher, thank you for everything.
36. Dear teacher, you have taught me many things, but most importantly, you have taught me to never lose hope, I am grateful to you.
37. I became more confident because I had a teacher like you because I knew that whatever problem I had, I could solve it with your help.
38. I admire you, teacher, that you start the day full of energy every morning, transfer your energy to us and make it seem as if it's a very effortless thing, teacher.
39. I can't repay what you did, dear teacher, you made me love school, you made me focus on my career, I thank you a thousand times.
40. I made the biggest difference in my life thanks to your belief in me, teacher, thank you very much.
41. You have become much more than a teacher for your students, we see you as our mentor and continue to be inspired.
42. You have not only returned a student like me to school, but you have also turned me into a successful student, thank you very much, my dear teacher.
43. Teacher, your life needs to be made into a movie because you are a legend to your students and your name will live on for generations.
44. I never thought I could love a teacher so much, I'm glad I got the chance to know you, teacher, I learned a lot thanks to you.
45. Teacher, even though years have passed, we will remember you fondly and never forget what you taught, we owe you a life.
46. My teacher, it was your honesty that impressed me the most, you never tried to make the easy thing seem difficult or the difficult easy, and in the end, you raised us in the best possible way.
47. I will miss your lessons very much, one of my biggest regrets in life will be not being your student anymore.
48. You believed in me when even my parents did not believe me, teacher, and thanks to you, I became a successful student, now I know that I have a very beautiful life ahead of me.
49. When I think about years ago, I can see how much I have improved myself, it was all thanks to you, teacher, thank you very much.
50. You managed to be more than just a teacher for us, you were like part of our family, you earned the trust of all of us, and taught great things.
51. While everyone was ignoring me, you believed in me, and thanks to you, I started to change, and now I am a hardworking person focused on my career.
52. You taught us all to invest in ourselves, now we know that we can improve ourselves forever, teacher.
53. Since the day you taught me about the relation of being educated with freedom, I have been constantly working to improve myself, my teacher.
54. You not only taught us your knowledge but also taught us how to access information, thanks to you, we were able to become our own teachers.
55. You taught that everyone will be successful in their own field, not in the same field, and thank you teacher for guiding us to find our own area of interest.
56. Dear teacher, you worked not to fill our minds, but to raise our awareness, and thanks to you, we acquired wonderful features.
57. We are grateful for what you have taught, teacher, thanks to this information, we will be able to live our lives better.
58. If I had not met a teacher like you, I would not have been able to understand any of these lessons, thank you teacher for everything.
59. Thank you very much, teacher, for giving us not only the lessons at school but also the information that will help us in our personal development.
60. If we are going to do great things in the future, we owe it to having a teacher like you, we love you so much.
61. We have been such successful students because you preferred to teach us where to use this information instead of giving us information by heart.
62. Teacher, we were able to improve ourselves because you taught us to reach information on our own instead of memorizing information from the book. Thank you for accepting these teacher appreciation messages.
63. You taught us that we can be useful to others with what we learned, teacher, thank you very much.
64. You made us have a passion for learning, teacher, I wish every teacher could achieve this.
65. Thank you a thousand times, teacher, for showing that books are our best friends.
66. You raised a student and changed the life of a family, now this family is changing the lives of other children too, teacher, everything happened thanks to you.
67. Teacher, thank you for teaching us that there are more important things than lessons and careers.
68. You taught us that school is not preparation for life, but life itself, and we continue to learn something new every moment.
69. Thank you, teacher, for teaching us that improving ourselves is a never-ending journey.
70. The positive impact of the wonderful students you have produced on society will never end and I am very happy to be one of those students.
71. Thank you very much for teaching us that being a student is not just going to class and going home and that it is a great opportunity for us to improve ourselves.
72. Thanks to you, we learned that lessons don't have to be boring, my dear teacher, I'm glad you came across us.
73. After meeting you, we started to benefit from school much more and we made future plans for ourselves.
74. We are now young people who have taken the first steps towards becoming good citizens of our country and we owe this to you, my dear teacher.
75. Before I got to know you, I thought learning something was to memorize what is written in the book, thanks to you, my dear teacher, I understood what it means to learn.
76. You have raised thousands of students who see you as a source of inspiration and they are all enjoying life with their amazing careers, so glad to have you, teacher.
77. I can't believe we have come to the day when you and I will part ways, how quickly the years have passed, teacher, thank you for everything.
78. As a former student of yours, I wanted to thank you once again after many years, you have done a lot for me, I cannot repay you.
79. I saw in you that a teacher can change a generation, you have done the best service to this country by raising thousands of successful students over the years.
80. When I got to know you, I realized that teaching is a much more meaningful profession than expected, thank you for raising wonderful children.
Do you know other teacher appreciation messages? Share with us!
Hand-picked Great Quotes About Teaching and Teachers
'Good teaching is 1/4 preparation and 3/4 theatre.'
Gail Goldwin
'The best teachers are the ones that change their minds.'
Terry Heick
'I am not a teacher, but an awakener.'
Robert Frost
'The mediocre teacher tells. The good teacher explains. The superior teacher demonstrates. The great teacher inspires.'
William Arthur Ward
'Your worst enemy is your best teacher.'
Buddha
'The job of an educator is to teach students to see vitality in themselves.'
Joseph Campbell
'Proper teaching is recognized with ease. You can know it without fail because it awakens within you that sensation which tells you this is something you have always known.'
Frank Herbet
'You cannot teach a crab to walk straight.'
Aristophenes
'A teacher who is attempting to teach without inspiring the pupil with a desire to learn is hammering on cold iron.'
Horace Mann
"Good teaching is one-fourth preparation and three-fourths theater."
Gail Godwin
"The important thing is not so much that every child should be taught as that every child should be given the wish to learn."
John Lubbock
'The word 'education' comes from the root e from ex, out, and duco, I lead. It means a leading out. To me education is a leading out of what is already there in the pupil's soul.'
Muriel Spark
'To know how to suggest is the art of teaching.'
Henri-Frédéric Amiel
'You can teach a person all you know, but only experience will convince him that what you say is true.'
Richelle E. Goodrich
'There is no failure. Only feedback.'
Robert Allen
'If a child can't learn the way we teach, maybe we should teach the way they learn."
Ignacio 'Nacho' Estrada
'The meaning of life is to find your gift. The purpose of life is to give it away.'
Pablo Picasso
"Teaching is an instinctual art, mindful of potential, craving of realizations, a pausing, seamless process."
A. Bartlett Giamatti
'All teachings are mere references. The true experience is living your own life.'
Ming-Dao Deng
'I would teach how science works as much as I would teach what science knows.'
Neil deGrasse Tyson
'Teachers have three loves: love of learning, love of learners, and the love of bringing the first two loves together.'
Scott Hayden
'The best teachers are those who show you where to look but don't tell you what to see.'
Alexandra K. Trenfor
'A good teacher is one who makes himself progressively unnecessary.'
Thomas Carruthers
'Education is not the filling of a pail, but the lighting of a fire.'
William Butler Yeats
"Teachers, who educate children, deserve more honor than parents, who merely gave them birth; for the latter provided mere life, while the former ensured a good life."
Aristotle
"The teacher's task is to initiate the learning process and then get out of the way."
John Warren
'Far and away the best prize that life offers is the chance to work hard at work worth doing.'
Theodore Roosevelt
'It is the supreme art of the teacher to awaken joy in creative expression and knowledge.'
Albert Einstein
"A teacher affects eternity; he/she can never tell where his influence stops."
Henry B. Adams
'Teaching might even be the greatest of the arts since the medium is the human mind and spirit.'
John Steinbeck
'Listening is the most difficult skill to learn and the most important to have.'
African Proverb
"In teaching you cannot see the fruit of a day's work. It is invisible and remains so, maybe for twenty years."
Jacques Barzun
'Everyone, in some respect, is a teacher; some just work harder to do it better.'
Terry Heick
'Study without reflection is a waste of time; reflection without study is dangerous.'
Chinese Proverb
'The greatest sign of success for a teacher is to be able to say, 'The children are now working as if I did not exist.'
Maria Montessori
'Teaching is only demonstrating that it is possible. Learning is making it possible for yourself.'
Paulo Coelho
'A good teacher is like a candle – it consumes itself to light the way for others.'
Mustafa Kemal Atatürk
"Good teaching must be slow enough so that it is not confusing, and fast enough so that it is not boring."
Sidney J. Harris
"In an effective classroom, students should not only know what they are doing, they should also know why and how."
Harry Wong
Teachers work an average of 50 hours per week teaching 49.4 million kids in the American public school system. For more facts and statistics about teachers and teacher appreciation messages, check out the infographic below.