These days, applying for a new job is a task in itself. Job applications aren't as simple as visiting an organization and leaving with a job. With the current market trends and job competitiveness, both employers and job seekers prefer to post and apply for jobs online. The question for job seekers is how to upload your resume to LinkedIn to reach a broad audience of recruiters?
When you apply for jobs online, three tools play a vital role in your job search – a LinkedIn account, a well-drafted resume, and a stellar cover letter.
Why LinkedIn?
Like Facebook, Instagram, and Twitter, LinkedIn is a social media networking site. But it's specifically geared toward connecting job seekers with potential employers, hiring managers, and other individuals from the job industry. Many recruiters prefer LinkedIn over other job boards and online recruiting sites due to LinkedIn's massive user base and advanced filter options.
Many job seekers already have LinkedIn accounts. But if you are new to the job hunt, it may be a good idea to learn to navigate this professional networking site.
LinkedIn Profile vs. Resume
Your LinkedIn profile is like an online resume; in the sense that it gives people an idea of who you are as a professional. However, while there are many similarities between your LinkedIn profile and a resume, they are not the same.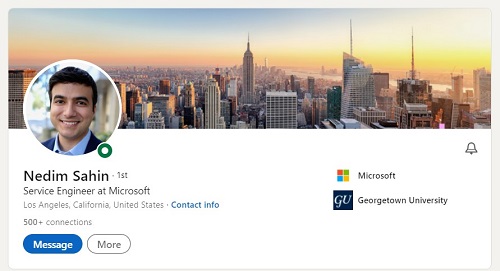 Essentially, your LinkedIn profile should display a broad overview of your career history, skills, and connections to people and companies. Whereas your resume should be a brief, tailored document with a clear job target.
77% of the recruiters rely on LinkedIn to find candidates for open positions. That's why having an impressive LinkedIn profile is crucial for landing a high-paid job. Dream Catcher Career Master Course explains how to create a Campion LinkedIn Profile that generates a steady stream of incoming messages from recruiters.
How To Upload Your Resume To LinkedIn
If you're exploring the LinkedIn job market, you may find yourself wondering, "Should I upload my resume to LinkedIn?"
There are six ways you can upload a resume to LinkedIn. Whether or not you should upload your resume depends on the kind of method you pick. Let's walk through the six ways to add your resume to LinkedIn.
1. Add Your Resume to LinkedIn As Featured Media
When you feature your resume on your LinkedIn profile, it will be available in your profile section as a separate document. Follow these steps to add your resume as featured media on LinkedIn:
Go to your LinkedIn profile.
Click on "Add profile section"
Select "Recommended" and then "Add featured" from the drop-down menu.
You can post articles, documents, websites, or media to this section. To upload your resume, click the plus (+) sign, choose "Add media", and select your most recent resume in Word or PDF format.
Click Save. Your resume will now appear as a featured post on your LinkedIn profile.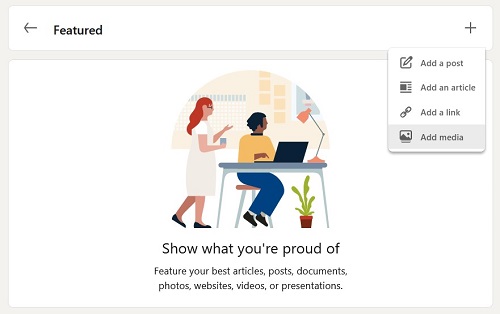 Like most job seekers, if you have a public account, anyone logged into LinkedIn may be able to view and download your resume.
Here's where you should be cautious about what you upload to LinkedIn. Often, your resume will consist of sensitive information like your contact information and address. To ensure safety, consider adding modified versions of your resume that only includes information you'd like to make public.
2. Add Your Resume To Linkedin For Easy Apply Applications
Instead of uploading a single resume to the featured section, you can save several resumes on LinkedIn to quickly attach them to a LinkedIn job application whenever you need them. This is helpful if you are in search of multiple career options or keyword targets to list on your resume.
Here is how you can save multiple resumes to your LinkedIn profile:
Click on the Jobs tab in the navigation bar.
Search for a job with an Easy Apply tag on the bottom.
Select the job you want and press the "Easy Apply" button below the job title.
Enter your contact information and click Next.
Press "Upload Resume", upload the resume file from your computer, and then press "Next".
Review your information and click "Submit application"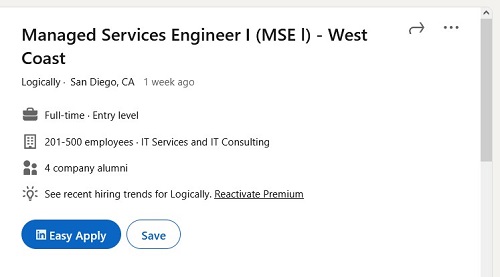 By default, LinkedIn saves the last five resumes you've uploaded, along with the date you last used the resume. To view and manage saved resumes, click on the Jobs tab. Then select "Application settings" from the navigation bar on the left. From here, you can manage, update, and delete your resumes and saved answers.
The Easy Apply feature comes in handy when you want to apply to similar positions with a targeted resume.
3. Share Your Resume As A Linkedin Post
You can upload your resume to LinkedIn as a regular post. Here's a step-by-step guide to sharing your resume as a post.
From your LinkedIn home page, click on "Start a post."
From the "Create a post" window, select the third icon, which looks like a piece of paper with the bottom-right part folded over.
Click on "Choose file," and select the resume file from your computer.
Fill the box that says, "Add a descriptive title to your document," and then press "Upload." The file will now be available for other people to view and download.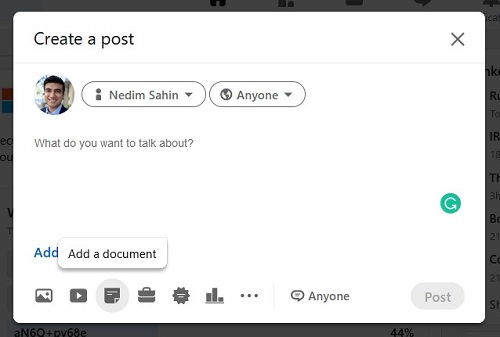 Many people use this method for different purposes. The most common, however, is as a way to get feedback from their LinkedIn networks. It also serves the purpose of informing your LinkedIn connections that you're in search of a job.
4. Send Your Resume Through Messages
Recruiters and hiring managers use InMail to reach out to potential candidates on LinkedIn. When you receive an InMail or a regular message with an interest to interview you, add your updated resume to the message window to make a better first impression.
Click on the message to expand it
On the bottom of the message, click on the clip icon
Select your resume in PDF format
Add your message
Click "Send"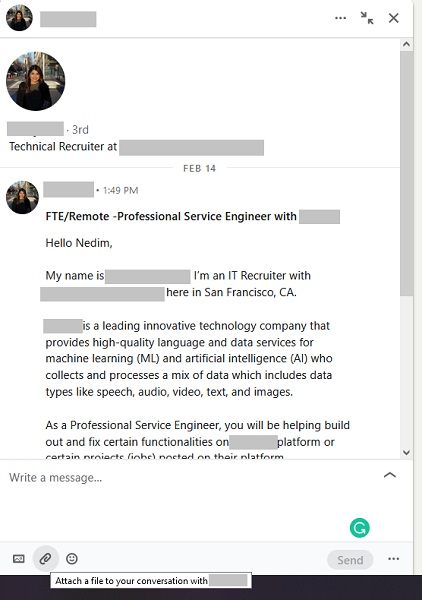 Recruiters and hiring managers like receiving a resume through messages because they know that it's your most recent resume whereas the resume in your profile might be outdated.
5. Share Your Resume in LinkedIn Groups
There are numerous groups for job seekers on LinkedIn. Most of these groups specialize in certain areas such as groups "Software Engineer Jobs" or "Searching Job in Sales". Sharing your resume in these groups helps you reach a broad audience of recruiters quickly.
Go to the group page
Click "Start a post in this group"
From the "Create a post" pop-up window, select the document icon at the bottom
Choose your resume in PDF format
Add your message about your job search and qualifications
Click "Post"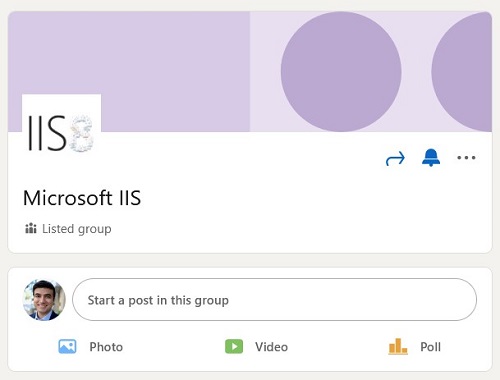 Make sure to read the group rules before posting your resume as some groups may not allow sharing resumes on the group timeline.
6. Use Linkedin As Your Online Resume
Using Linkedin as your online resume is probably the best way to ensure your privacy while also making the best use of LinkedIn. In this method, you simply need to fill out all of the sections of your LinkedIn profile.
From summary to skills to education, work experience, and job description, almost all of the important elements you add to a resume can be added to LinkedIn too. You don't need to upload your resume if your LinkedIn includes all the details required by an employer.
Even though your work experience will not be tailored to a specific job application, your LinkedIn profile will give the recruiter a good idea of whether you're suitable for the position or not.
How to Download Your LinkedIn Profile as a Resume—Step by Step
As discussed above, you can add your resume to LinkedIn using many different methods. But did you know you can download your entire LinkedIn profile as a PDF? Downloading your LinkedIn profile may be the quickest way to create your resume.
Click on your profile picture at the top of the LinkedIn page.
Select "View profile."
Press the "More" button in the profile introduction section.
Choose "Save to PDF" in the dropdown.
Even though this is a quick way to create your LinkedIn resume, we don't recommend treating a hard copy of your LinkedIn profile as a resume.
Why A Copy Of Your LinkedIn Profile Is NOT Your Resume
Your resume is a formal history of your professional life that details your work experience, education, accomplishments, skills, and other sections. If you have years of experience, your resume is likely well-drafted and job-specific.
Your LinkedIn profile, on the other hand, is general. It is a little less formal because of its nature as a networking platform. And even though you're still self-promoting, it is more casual. Your LinkedIn profile details your entire life's work experience, which lets you create a generic resume only.
While it may seem like a good idea to have all your experiences in one place, it lowers your chances of getting hired. You should always apply to jobs with a tailored resume to improve your chances in the applicant pool.
With that said, it's still perfectly okay to include a hyperlink to your LinkedIn profile. Hiring managers and recruiters want to see what you're interested in professionally. Adding your LinkedIn profile to your resume allows you to showcase your personality, skills, and accomplishments to potential recruiters without directly contacting them.
Now that you know how to add your resume to LinkedIn, you may wonder whether it's wise to do so.
Should You Add Your Resume To Linkedin?
While it is a great way to display your polished resume online, we don't recommend uploading your resume to LinkedIn. You should consider the following before you do so.
Privacy Concerns
When you upload your resume document to LinkedIn, it is available for anyone to view and download. Your LinkedIn is a public space. This means all of your connections will have access to your address, phone number, and other personal information. Before uploading your resume to LinkedIn, you need to consider if you want your information to be readily accessible to anyone who is connected to you on LinkedIn.
Searching for profiles is relatively easy on LinkedIn. Often, if someone has your profile link, they can read everything you post to it, making it easy for them to steal your identity.
One Size Doesn't Fit All
Uploading your resume to LinkedIn isn't the best way to find a new job, especially if you want recruiters to know you are specifically qualified for the position.
When using LinkedIn as a job-seeking platform, you should ensure your resume is specific for each job. If you upload it to your profile, then you don't allow room for modifying the resume as per the job application.
Some recruiters consider this approach to be a lazy one because you appear to believe one resume fits all. If you have your resume uploaded to your profile, you lose your chance of a recruiter calling you. This is because the method feels less human as a candidate, and most recruiters base their impression on how well you present yourself.
Tailoring your resume and adding a stellar cover letter shows potential employers that you are willing to go the extra mile to be a part of their organization.
Visible to Everyone
Another reason why uploading your resume to LinkedIn is a bad idea is because there are chances your current employer will see it. If you want your job search to be private, we recommend opting for the Easy Apply option.
Weigh Your Options
After giving it considerable thought, if you want your resume to be freely available for recruiters, aren't worried about people knowing you're actively searching for a job, and can omit private details from your resume, then uploading your resume may be a good decision for you.
But if you're unsure of what to choose, it's best to tread with safety and keep your resume off your LinkedIn profile. This doesn't mean employers won't notice you.
If you have an updated profile, then recruiters will be intrigued and will initiate a conversation to learn more and ask for a resume. Many recruiters prefer this approach because it feels more human to them. It helps them connect with you as a person, and assess you based on your knowledge and communication skills.
Moreover, when you apply to jobs directly through LinkedIn, you can upload your resume document and make it specific to the job application.
Final Thoughts About How to Upload Resume to LinkedIn
Job seeking can be a stressful time in your life. Knowing what to add to your LinkedIn and how to add it is important to make a lasting impression on employers.
In most cases, it is not preferred to upload your resume to your LinkedIn profile because of the lack of privacy on LinkedIn and the negative impact this approach has on employers. Instead, you should consider applying directly using the Easy Apply functionality – this allows private, job-specific resume uploads.
No matter what you choose, make sure you're clear about what you want, public and private. Not many people are aware of the various features LinkedIn offers. With these tips, you can be sure that your resume and LinkedIn profile sets you apart from the huge applicant pool, which improves your chances of landing your dream job.
Need a head start on creating a resume that works for you 24/7 and brings interview requests? Use the Winning Resume Template to quickly build a resume that is guaranteed to get the attention of recruiters and hiring managers.