Hotel, pool, sea, white sands, recreation rooms, showers, crystal clear waters, exotic birds, dolphins, and interesting species like hermit crabs… Wingaersheek Beach is a fun-packed beach in the western part of Gloucester in Massachusetts.
How to Get to Wingaersheek Beach?
If you are coming from South, take Exit 13 on Yankee Division Highway to reach to the beach. If you are coming from North, take Exit 45 on I-95.
Located at the end of Atlantic Street off Route 133 and Concord Street, Wingaersheek Beach goes along the Annisquam River and Ipswich Bay. Use the map below to get directions.
Please note that there might be traffic due to the huge influx of people along with other beaches in the region.
Is Wingaersheek Beach Open?
The beach is open to public (both residents and non-residents) at 8:00am and closed at 9:00pm. However, in case of inclement weather, the beach and all facilities may close early.
Are There Restrooms and Showers?
There are restrooms and showers at Wingaersheek Beach and they are available from 9:00am to 6:00pm daily. All facilities including restrooms and showers may be closed early based on the weather conditions.
Are there Lifeguards at Wingaersheek Beach?
There are lifeguards at the beach from May 31st (Memorial Day) to September 6th (Labor Day) from from 9:00am to 5:00pm daily. Please note that surfing, inflatable items, and all flotation devices such as life jackets and belts are prohibited when the lifeguards are on duty.
Is Alcohol Allowed at Wingaersheek Beach?
No. Alcohol is not allowed at the beach.
Are Dogs Allowed?
Dogs are not allowed between May 1st and September 30th. Dogs are allowed other times. only between October 1st and April 30th. Unleashed dogs shall be allowed during this period as well. Please see Dog Rules and Regulations for more information.
Is There Parking at Wingaersheek Beach?
Yes. Parking is available at the beach. The rate is $30 per vehicle during the week and $35 per vehicle on the weekends and holidays. Rates can be reduced after Labor Day. The space is limited so you may want to arrive early to get a parking spot.
Are There Sharks Around Wingaersheek Beach and Gloucester Coast?
According to NBC Boston, surfers reported seeing sharks off the coast of Gloucester. Lifeguards brought everybody in and closed Long Beach and Good Harbor Beach for two hours.
What Does Wingaersheek Mean?
Professor Trumbull described the meaning of the name as "not Indian". However, Professor E. N. Horsford mentiones it as a corruption of the earlier Dutch name "Wyngaerts Hoeck" which was changed from "Wyngaerton" (It means "Vineland").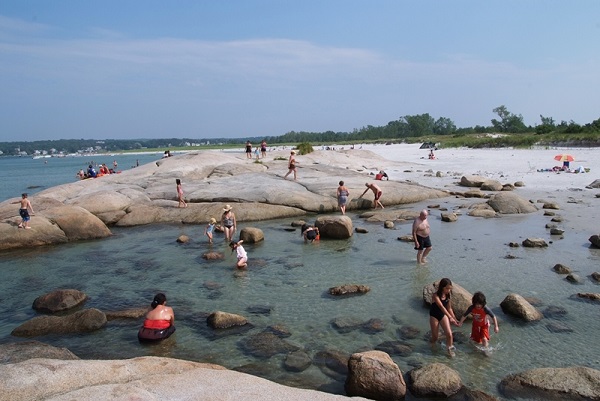 11 Amusing Activities You Can Enjoy at Wingaersheek Beach
Until you reach Wingaersheek Beach, you may need to reschedule your work, struggle with traffic, find a place to stay and park but you will forget all these challenges when you arrive and start your holiday whether it's a day trip or a long weekend.
When we say holiday, we immediately think of the trio of sea, sand, and sun even if we don't have a holiday like we always dreamed of. The truth is, even the worst vacation feels better than a day at the office. I know, the dream of the holiday itself made you feel better already.
Nature sounds incredibly attractive at Wingaersheek Beach. Near the end of the holiday, you wonder if you want to settle there. Thoughts begin to cross your mind. But it's difficult to break the routines we are accustom to.
We all have similar dreams. I hope you make your dreams come true soon. Until then, let's check out fun activities you shouldn't miss at Wingaersheek Beach.
1. Frisbee
A spaceship that has no purpose.. It's fun to throw it at each other, and we laugh for no reason when we drop it. The best part is? You do not have to go and take it when you throw it.
To use frisbee more efficiently, throw it near the strangers (safely – do not hit anyone please) to start a conversation with them.
2. Beach volleyball
It's another entertaining activity with family and friends… Or to meet people for dating! You never know. You may meet someone when you go to get the ball that goes off the field.
3. Beach soccer
Just like beach volleyball, it requires a group of 5-6 people and a ball, apparently. Look at the beautiful white sand on Wingaersheek Beach. Isn't it hard to resist running on it?
4. Push-ups, sit-ups
You may see those folks pumping iron on the beach and may think if there was no other place or time to do sports. But hey, join them! It's more motivating to exercise on the beach than in your living room or gym.
5. Fishing
Rain or shine. Bring your fishing rod and wish for a lucky day. Don't forget your sunscreen!
6.Walking with your dog
Take your dog for a walk on the beach. Play fetch. Help your dog figuring out if he or she likes swimming.
7. Bury yourself in the sand
They say hot sand will be beneficial especially for joints. Even if it's not the case, it feels good. Try it!
8. Paint
Grab your canvas and brush and head to the beach! For inspiration, check out Marianne's stunning paint!
9. Read a book
Bring a beach read. Put on sunglasses. Get lost in the story (Warning: This may not be the right time to read Fifty Shades of Gray).
10. Listen to music
Music can make you feel like you are in a movie, especially in Golden Hour. Sea, sand, sun, and your favorite songs. Cut!
11. Sunbathing
It's a beach, right? Who would say no to a little bit of tanning?
In case you are still not sure which beach to visit, check out what Juaquin has to say about Wingaersheek Beach:
Read Juaquin C.'s review of Wingaersheek Beach on Yelp
Let's go to the beach!
If you miss country music after weekends filled with beach trips and you have a chance to visit Texas, do not miss out Floore's Country Store!