Three-time Super Bowl champ Robert James Gronkowski was born in 1989. In his early 30s, this successful American football player from New York is 6 ft 6 inches (1.98m) tall and he weighs 265 lb (120 kg). You are thinking how these biological details related to Gronk's girlfriend?
Well, the first question is…
Is Rob Gronkowski single?
No (sorry, ladies). He has been together with American supermodel and actress, Camille Kostek since 2015. And yes, Gronk is still with his girlfriend at the of time of writing this post.
Has Gronk Retired from NFL?
Yes, he announced his retirement on March 24, 2019 when he was 29 years old.
What is Rob Gronkowski's Net Worth?
According to Celebrity Net Worth, Rob Gronkowski's net worth is $40 million dollars. Before retiring from NFL, Gronk earned around $60 million in salary alone.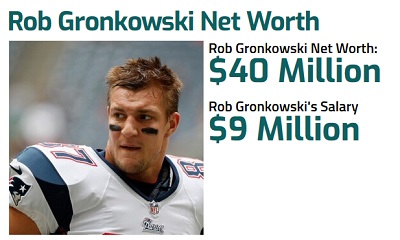 How Gronk met with Camille?
Gronk previously played for the New England Patriots. He continued his career in Tampa Bay Buccaneers. Before his Florida journey, he met his current girlfriend Camille at a Patriots charity event on Thanksgiving in 2013. The couple became lovers after 2 years.
Who is Gronk's Girlfriend, Camille Kostek?
Camille Kostek is an American model, actress, and host. She first appeared in Reebok commercial, then gained more recognition with her appearances in Sports Illustrated Swimsuit including a cover of the 2019 edition.
Her full name is Camille Veronica Kostek. She was born in Killingworth, Connecticut in 1992. Kostek graduated from Eastern Connecticut State University with a degree in communications.
She studied ballet as a child before starting her professional cheerleading career at the age of 19. Kostek also joined a dance team on a television channel. Moreover, she is a sports trainer. Just reading about her career, you may have already guessed that she has a magnificent physique without even looking at the photos.
What is Camille Kostek's Net Worth?
Camille Kostek's net worth is an estimated $3.4 million dollars. She is considered to be in the same league with models such as Kendall Jenner and Gigi Hadid.
How long have Gronk and Camille been together?
This famous couple has been together since 2015.
What do you think Gronk's Girlfriend Camille Kostek has other than her physique to impress Rob Gronkowski?
1. Being Educated and Classy
Who wouldn't want to be with an accomplished woman? There are such beautiful women who have kind of a conversation that you can listen to for hours no matter what she tells. She can comment on the topics you will tell. You can chat for hours. Perhaps, this is what Camille is known for?
2. Using Social Media Effectively
I don't find it logical to say "stay away from social media", but if it's not about your job, it's terrible to get so carried away. A woman who takes 10 photos before every event she does is really repulsive. Kostek has a unique way of using social media to talk about her life, struggles, and dreams.
3. Not Getting Wasted
It does not suit a woman to drink until she gets drunk by trusting him just because her boyfriend is with her. Drinking and having fun is everyone's right, but it is nice as long as it is not exaggerated. You don't need to bother or embarrass your boyfriend.
Gronk's girlfriend Kostek definitely knows how to make her boyfriend proud.
4. Finding a Balance on Makeup
Light makeup is really enough. Do not exaggerate like to go on a picnic with heels and makeup. It will be enough for your boyfriend to see that you care on the most special days by doing some little things. Stay away from flashy outfits and extravagant makeup.
Looking at her daily-life photos, Kostek knows how to be attractive without too much makeup.
5. Not Being a Drama Queen
We all have problems, but there is no need to make them bigger. Living the slightest disagreement as if it were the end of the world will make you tired both yourself and your boyfriend. Kostek sees the true personality of Gronk and she loves it.
6. Not Being a Gossip Girl
Don't blow up your boyfriend's head and distract him from things that your boyfriend won't understand anyway. It looks like Gronk and Kostek have the perfect chemistry match.
7. Not Being Jealous
Is it worth losing your boyfriend's trust just because you will satisfy your ego for a moment? While you see that he is jealous and you think "he loves me very much", your boyfriend thinks "she acts like this next to me, who knows what she is doing while I am away". Being jealous is a form of behavior that results in trust problems and separation in the long run.
Looking at Kostek's photo captions, there is not even a hint of jealousy. How about Gronk, though?
Despite following Kostek's life through her social media sharings, we don't know everything happening in Gronkowski and Kostek's lives, but we can say for sure that things are going well fine for this lovely couple since 2015. I hope we see them together forever. I would love to write a post about the wonderful children of Gronkowski and Kostek!
15 Viral Photos of Gronk's Girlfriend
1. House wife in your dreams?
2. Love for animals (Especially for cats and dinosaurs)
3. Old School?
4. Chief on fire
5. Just chilling
6. And riding
7. Crew
8. Keep the braid, please!
9. Tension is high on the high-rise balcony
10. Someone said a hot day?
11. Getting even hotter
12. Kostek's selfies never go wrong
13. Unique model in golden hour
14. Did I mention stunning selfies?
15. Hair 10/10
These photos made you want to hit the beach? Check out the East's hidden gem Wingaersheek Beach!