As a huge admirer of the country music, ladies and gentlemen, let me introduce you Floore's Country Store!
If you live in Texas, it's unlikely that you haven't heard of this music venue which is listed as one of the "50 Things Every Texan Should Do" by Texas Monthly.
What Makes Floore's Country Store Unique?
Floore's Country Store, which was opened by John T. Floore in 1942, is a popular cafe and dance hall that hosted Texas and American music legends like Willie Nelson, Bob Wills, Ernest Tubb, Patsy Cline, Hank Williams, Elvis Presley, Bob Dylan, Jerry Lee Lewis, Merle Haggard, Ray Price, George Jones, Waylon Jennings, Dwight Yoakam, Lyle Lovett, Robert Earl Keen, B.B. King, Little Richard, and many more.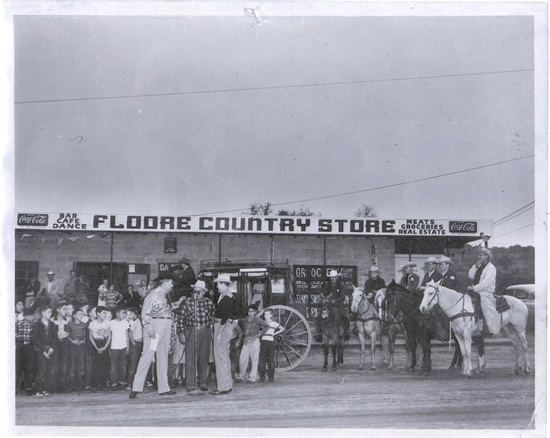 Located in 14492 Old Bandera Rd, Helotes, Texas, John T. Floore Country Store was selected as the "Nightclub of the Year" by the Academy of Country Music in 2006 and 2013.
Relation to Willie Nelson Music Company
Apart from its world-famous tamales and homemade bread, Floore's is known as the musical "birthplace" of Willie Nelson.
Willie Nelson graced Floore's stage regularly in the early years of his career. Taking their friendship further, Floore became a business partner of Willie Nelson Music Company.
In 1973, Nelson dedicated one of his hit recordings, Shotgun Willie, to Floore.
Live Music, Family Nights, and Tasty Food in the Menu
Every Sunday night is family night at Floore's. Check it out for free dance and chow down on hot homemade tamales (food is served until 10pm on Sunday, 11pm on Saturday and Friday).
Follow their Twitter account for the concert schedule:
Why People Love Floore's Country Store
1. The birthplace of music
Shotgun Willie, Ernest Tubb, Ray Price, Bob Willies, Johnny Cash, and many more legends have passed through here.
2. One of the best
Enjoy music with its warm environment and high sound quality. It's easy to fall under the spell of Floore's Country Store and forget about posting on social media.
3. Cold beer
Beers always come cold. It's hot outside but cool inside. Moreover, you can buy your drink at really affordable prices. Everything will make you feel good in this place.
4. Dance hall
Now is the time to get some action. The environment is getting hot. The clock is ticking. Floore's Country Store has all the perks for you to live the moment fullest. Immerse yourself in one of the best music venues in the state.
5. Loyal customers
You may be disturbed by drunk and loud customers in some places but in Floore's Country Store, you will see smiling fans with the love of country music and good times.
Read Justin J.'s review of John T Floore Country Store on Yelp
6. Events
There are concerts every week throughout the year. Every weekend is an opportuntiy to get lost in music with other country lovers.
7. Elvis Presley was there
King. Elvis the Pelvis. You can go to concerts whenever you want, wherever you want, but it will be much more meaningful to go to a place where a legend like Elvis Presley has been before. Go and breathe the same air as that. Feel the soul.
How to Get to Floore's Country Store?
Floore's is located on Bandera Road, near the San Antonio Home Depot and Government Canyon State Natural Area. Use the map below to get directions.
Grab a beer or two and have good time at Floore's!
Thinking about a beach trip? Check out this hidden gem, Wingaersheek Beach.