Menards is heating up the competition with Home Depot. From weekly sales to daily discounts, customers love to save big money at Menards.
Menards is a retail company founded in 1960 by John Menard Jr. This place, where you can find products for every budget, has made a name for itself with the discounts it offers. With more than 45,000 employees, this company has an annual revenue of over $10 billion.
You can find products for even less than $10 at home improvement retail company Menards. With this price policy, Menards has become indispensable for people and has grown rapidly.
How to Save Big Money at Menards?
The most popular way to catch huge sales is that visiting the Weekly Ad. You can also sign up to the newsletter for receiving weekly ads and other specials in email.
I would high recommend regularly checking Ray's List for clearance and mail-in-rebate items as well. It's kind of a hidden gem on the Save Big Money Center.
While talking about discounts, I know that Menards jingle started playing in your head too!
Speaking of the catchy jingles, do you remember the iconic SNL sketch Toonces the Driving Cat?
There is also 11% off on most items once a month. It's one of the best ways to save big money at Menards!
To learn about big discounts on certain items or storewide, make sure to follow Menards' social media accounts.
What is The Bag Sale?
You will have a 15% discount on the products you can put in the Menards bag. It applies to regular and sale prices on all in-stock products. However, there is a one-item limit per customer for every visit.
Download the coupon to take advantage of this 15% extra discount!
Did you miss The Bag Sale? Make sure to check out Price Busters and Hot This Week sales! More information is below.
Conditions to benefit from these discounts:
Limited to 1 per visit per customer and household.
Valid only on in-store products.
Valid until the specified time on the website unless otherwise stated.
Price Busters, Are You Ready?
Menards wants you to shop cheaply and says you can enjoy great prices. Click the PRICE BUSTERS DISCOUNTS link and enter your location to see the hot deals near you.
You can filter the Price Busters deals by category or promotion. There is also an option to download it as a PDF file so you can print it out and take it with you to the store.
Hot This Week
Don't be sad if you miss Price Busters or The Bag Sale deals because the Hot This Week campaign launched by Menards is still going on! You don't need to pay a lot of money for quality products suitable for your needs.
On the homepage, scroll down to find the HOT THIS WEEK section. You will see five products with huge discounts only for this week!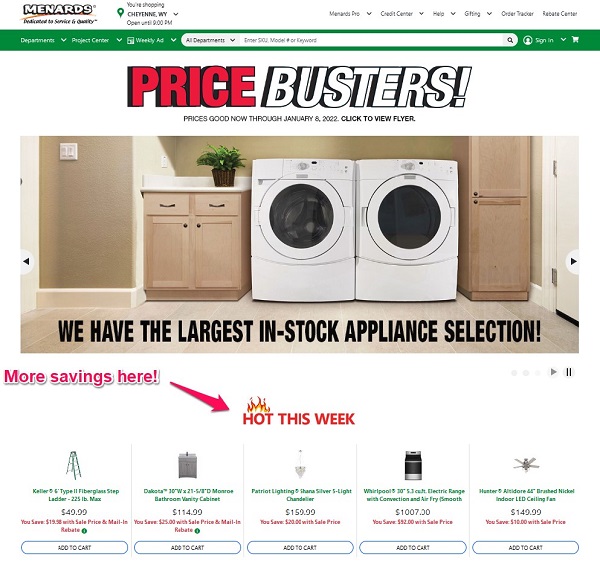 Store Bargains to Save Big Money at Menards
Many folks are not aware of the big saving opportunities you can get in the store. They are called "Ray's List at Menards". It's pretty much an old-school bargain deal you can make only in person. However, you can review these deals before going to the store.
Click this link to check the current bargain items. From sinks to shelves and doors to appliances, there are hundreds of clearance products with up to 90% discount.
Please note that in-store bargains are for the products in unclaimed special orders, store display models, limited-time offers, closeouts, open boxes, and clearance items. These products might be slightly dinged and dented.
Menards' statement about the store bargains:
Prices, promotions, styles and availability may vary by store and online. Inventory is sold and received continuously throughout the day; therefore, the quantity shown may not be available when you get to the store. This inventory may include a store display unit. Online orders and products purchased in-store qualify for rebate redemption. Mail-in Rebate is in the form of merchandise credit check, valid in-store only. Merchandise credit check is not valid towards purchases made on MENARDS.COM®. By submitting this rebate form, you agree to resolve any disputes related to rebate redemption by binding arbitration and you waive any right to file or participate in a class action.
Sign up to Newsletter to Save More
Just like many other retailers, Menards offers big savings for newsletter subscribers. Click here to join their email list and keep an eye on your inbox. Daily emails contain discounts you may not see in the Hot This Week or other discount programs.
Other Unusual Ways to Save Big Money
You graduated. You got to work. You started making the maximum amount of money you can earn. What will you do if you don't have the energy to do additional work and your family is out of wealth?
It's time to save money. If you obsess, you cannot live your life. If you don't care, you'll regret it when you're old. So you should start saving as soon as possible.
Here are 33 unusual items to help you save money.
1. Don't eat out. Ask for tea or black coffee, even if you're in the most luxurious restaurant. What are you doing in the most luxurious restaurant anyway?
2. When you go to a cafe, don't order unless the waiter comes and asks. If the waiter never comes, be happy. Get up before ordering
3. Charge your phone, tablet, laptop at cafes and restaurants
4. Turn off all the lights in the house. The phone's light is sufficient. You already charged it at the cafe
5. Sell ​​your fridge. Have you ever seen animals save food for several days? Buy your daily need only
6. Take extra napkins with you every time before you leave a restaurant or coffee shop
7. If you have to stay at a hotel, take shampoos when you leave
8. Don't wear underwear. It will become dirty and old quickly. Washing or buying a new one is always costly
9. Sell ​​your washing machine. Air out your clothes every day. Hand wash if it gets very dirty
10. Walk in the rain. Not because it's romantic. Both you and your clothes will be washed. Besides, the neighbor's daughter may fall in love with you. Don't be lovers though. It's enough if she brings you the food only
11. Do not accept guests at your house. Do not buy forks, knives, and plates. Anything you can eat with a fork, you can also eat with a spoon. You can use the edge of the spoon instead of a knife
12. Sell ​​your dishwasher. What will you do with the machine for 1 spoon?
13. If possible, don't have any sex. Being with a prostitute, lover, or wife all come with a cost. You may say "But she's my wife." Look, even in the ranking, I put the prostitute first
14. Leave your boyfriend or girlfriend so you can save the money you pay for the movie theater, food, and holidays. If it's a very serious relationship, get rid of it as soon as possible. Marriage and children are a huge expense. If you divorce, this time you will deal with alimony
15. Don't use a condom. Learn to pull back yourself at the right time instead of giving money to a 1-pack condom. Warning: If you cannot pull back yourself, you will incur a much greater expense
16. Ask to borrow money. Put on saving account for a month. Don't touch it. Pay your debt after 1 month
17. Sell ​​your books. You read them already
18. Walk all distances of less than 1 hour. Don't use the bus, taxi, or your own car. Sell ​​your car already
19. Look at the ground while walking. Collect the coins you find on the ground. Pretend as if it fell off you
20. Get a bike. You can go to places longer than 1 hour very comfortably with your bike
21. Stop eating bread. 1 bread a day, 30 pieces of bread a month. 360 pieces of bread a year. It will damage your health and your pocket
22. Stay away from disposable items like wet wipes
23. Don't throw away your faded clothes. Paint if the fabrics are solid. It will be like new
24. Buy shoes in black or white, one color, without a logo. They will not understand how cheap it is and they go well with any outfit
25. Don't wear shoes for nearby places. Travel in slippers
26. You can look stylish enough with a simple t-shirt, jeans, and a few cheap necklaces and glasses. Don't look for the more expensive one
27. Quit alcohol and smoking but it's not enough. Stay away from drinks other than water
28. Get the cheapest hair cutting device. Shave your hair yourself. Cut it very short. If someone asks, you can say "I'm a fan of Vin Diesel"
29. Eat a lot of eggs. It will keep you full. You won't be hungry for a long time
30. When you crave sweetness, grab the cheapest chocolate. They are all the same anyway
31. Tell everyone around you to have no money. No matter what product they talk about, tell them you find it expensive. Over time, they will start making donations to you
32. Follow people who get up before they finish their meals in restaurants. When they're gone, sit at the table and continue to eat
33. Don't take a towel or a hairdryer. Wait for a while after the shower and you will dry out anyway
I hope we have been a source of inspiration for both to save big money at Menards and saving money in general. May health and wealth be with you!