It's really difficult to find a restaurant you truly enjoy and feel welcomed. Even if you try most of the menu, only a few restaurants earn a permanent place in your heart. Famous Toastery is one of these restaurants you may quickly become a regular at.
You will want to go to one of their locations just to chat with people working there and try tasty breakfast, lunch, and brunch options on their menu. Additionally, you will like the feeling of being in a clean and high-quality restaurant combined with friendly and respectful staff, fast service, and fresh food. This is why they are in the Top 200 Franchises list!
The biggest advertising success of restaurants is certainly in the form of word of mouth. Once you have achieved this, you do not have to pay for advertising again. Needless to say, satisfied customers love to make your advertisement. This is the strong suit of Famous Toastery. They are getting more popular thanks to their fans all around the East Coast!
Read Terrence P.'s review of Famous Toastery Uptown on Yelp
Being the first breakfast and lunch restaurant that comes to mind, sometimes alone, sometimes for a meeting with friends, is the natural result of the discipline and care the people working at Famous Toastery have.
Who Owns Famous Toastery?
The passionate friends and business partners Brian Burchill and Robert Mayrand opened their first branch in 2005 in Huntersville, NC. They are New York City natives who are in love with serving high-quality food and giving back to their community.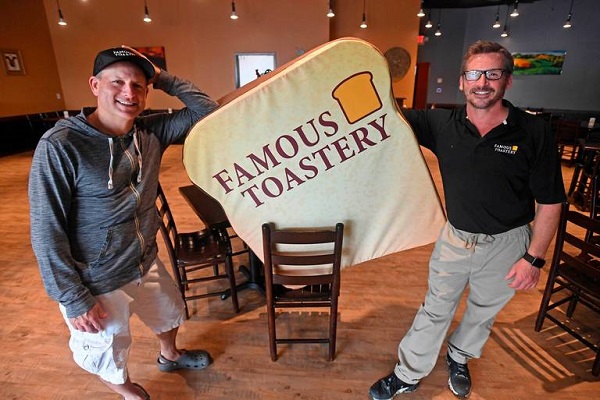 How Many Famous Toastery Locations are There?
Since 2013, owners have managed to reach 40 branches by transforming their business into a franchise. This inspirational success story is based on their childhood dreams that started when they were 8 years old. These two long-time friends have succeeded in bringing us together with delicious food.
Where is Famous Toastery?
Enter your zip code at their Locations page to find the branch close to you. Their first branch is located at 12715 Conner Dr. in Huntersville in North Carolina.
Can You Order Online?
Yes! You can order food from Famous Toastery through Door Dash. Moreover, they also offer coupons codes for discounted price.
Does Famous Toastery Offer Catering?
Famous Toastery offers Catering service. Delicious products are delivered to you at an affordable price.
Are They Hiring?
Yes! Visit their Careers page to check out opportunities to work with Famous Toastery. I love how much they care about work-life balance and positive environment!
How to Become a Franchise?
Would you like to get a franchise to be part of the family and do a job you can be proud of? If you have $250,000 in liquid cash and a net worth of $500,000, head to their Franchise Portal to learn more.
What Time is Famous Toastery Open?
Most branches are open between 7 am and 3 pm every day. However, please check the specific location on your Maps application to make sure about their hours.
9 Glamorous Breakfast and Lunch Photos
1. Famous pair at a sunny breakfast spot
2. Honey, more honey please
3. There is no photo that can describe a brunch better
4. When avocado met the famous chicken sauce…
5. Nice touch with orange slices
6. How about orange juice? I know you can feel the taste
7. Back to basics while rocking the taste
8. I can't resist the seasonal menu…
9. Famous hash with mimosas and eggs. Did I mention the famous hash?
After your nutritious breakfast or lunch, head out to Menards to complete that home improvement project: 33 Unusual Ways to Save Big Money at Menards.