It's really difficult to find a restaurant you truly enjoy and feel welcomed. Even if you try most of the menu, only a few restaurants earn a permanent place in your heart. Famous Toastery is one of these restaurants you may quickly become a regular at.
You will want to go to one of their locations just to chat with people working there and try tasty breakfast, lunch, and brunch options on their menu. Additionally, you will like the feeling of being in a clean and high-quality restaurant combined with friendly and respectful staff, fast service, and fresh food. This is why they are in the Top 200 Franchises list!
The biggest advertising success of restaurants is certainly in the form of word of mouth. Once you have achieved this, you do not have to pay for advertising again. Needless to say, satisfied customers love to make your advertisement. This is the strong suit of Famous Toastery. They are getting more popular thanks to their fans all around the East Coast!
Read Terrence P.'s review of Famous Toastery Uptown on Yelp
Being the first breakfast and lunch restaurant that comes to mind, sometimes alone, sometimes for a meeting with friends, is the natural result of the discipline and care the people working at Famous Toastery have.
Who Owns Famous Toastery?
The passionate friends and business partners Brian Burchill and Robert Mayrand opened their first branch in 2005 in Huntersville, NC. They are New York City natives who are in love with serving high-quality food and giving back to their community.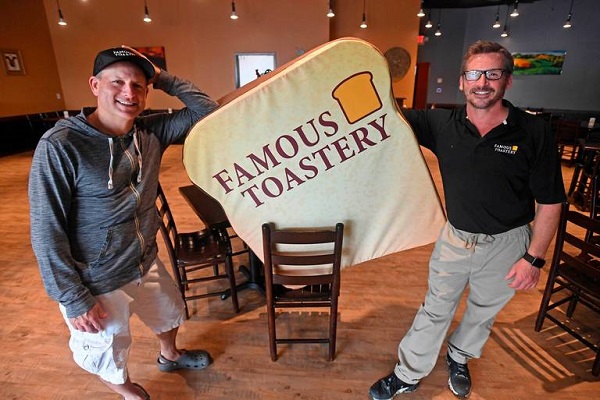 How Many Famous Toastery Locations are There?
Since 2013, owners have managed to reach 40 branches by transforming their business into a franchise. This inspirational success story is based on their childhood dreams that started when they were 8 years old. These two long-time friends have succeeded in bringing us together with delicious food.
Where is Famous Toastery?
Enter your zip code at their Locations page to find the branch close to you. Their first branch is located at 12715 Conner Dr. in Huntersville in North Carolina.
Can You Order Online?
Yes! You can order food from Famous Toastery through Door Dash. Moreover, they also offer coupons codes for discounted price.
Does Famous Toastery Offer Catering?
Famous Toastery offers Catering service. Delicious products are delivered to you at an affordable price.
Are They Hiring?
Yes! Visit their Careers page to check out opportunities to work with Famous Toastery. I love how much they care about work-life balance and positive environment!
How to Become a Franchise?
Would you like to get a franchise to be part of the family and do a job you can be proud of? If you have $250,000 in liquid cash and a net worth of $500,000, head to their Franchise Portal to learn more.
What Time is Famous Toastery Open?
Most branches are open between 7 am and 3 pm every day. However, please check the specific location on your Maps application to make sure about their hours.
Famous Toastery Locations and Hours
There are 26 Famous Toastery Locations across North Carolina, South Carolina, and Virginia. Many of them are open 7am to 3pm every day with some exceptions. Check out the list below for the locations and business hours of this popular breakfast chain.
North Carolina:
Blowing Rock, NC
349 Sunset Dr. Blowing Rock NC 28605
(828) 414- 9813
7am-3pm Thu-Mon, Closed Tue-Wed
Denver, NC
7260 Hwy 73 suite 116 Denver NC 28037
(704) 951-8390
7AM – 3PM
Belmont, NC
6425 Wilkinson Blvd. Belmont NC 28012
(704) 981-1135
7AM – 3PM
Mooresville, NC (Town Square)
134 Mooresville Commons Way Suite H Mooresville NC 28117
(704) 696-8436
7AM – 3PM
Davidson, NC
101 North Main Street Davidson NC 28036
(704) 655-2778
7AM – 3PM
Huntersville, NC
12715 Conner Dr. Huntersville NC 28078
(704) 425-6485
7AM – 3PM
Mooresville, NC (Downtown)
170 N. Main St. Mooresville NC 28117
(980) 444-2092
7AM – 3PM
Charlotte, NC (Ayrsley)
2127 Ayrsley Town Boulevard Suite 101-A Charlotte North Carolina 28273
(980) 819-5002
7:30am-2:30pm
Charlotte, NC (Uptown)
330 S. Tryon Charlotte NC 28202
(980) 237 8081
7AM – 3PM
Charlotte, NC (Dilworth)
2400 Park Road Charlotte NC 28203
(704) 215-4166
7AM – 3PM
Charlotte, NC (University Place)
8933 JM Keynes Dr. Suite 2 Charlotte NC 28262
(704) 503-9599
8AM – 2PM
Concord, NC (Concord Mills)
8680 Concord Mills Blvd. Suite 10 Concord NC 28027
(704) 900-8592
7AM – 3PM
Charlotte, NC (Ballantyne)
8430 Rea Rd. Charlotte NC 28277
(980) 613-8343
7AM – 3PM
Matthews, NC – 8am-3pm
1640 Sardis Road N. suite 160 Charlotte NC 28270
(704) 845-0684
7AM – 3PM
Concord, NC (Branchview)
970 Branchview Dr. Concord North Carolina 28025
(704) 787-8543
7AM – 3PM
Winston Salem, NC (Downtown)
770 Liberty View Ct. Winston Salem NC 27101
(336) 306-9023
7AM – 3PM
Cary, NC
316 Colonades Way #201C Cary NC 27518
(919) 655-1971
7AM – 3PM
Wilmington, NC
6722 Wrightsville Ave. Wilmington NC 28403
(910) 256-7030
7AM – 3PM
South Carolina:
Lake Wylie, SC
5217 Hwy 557 Clover South Carolina 29710
(803) 675-6000
7:30am-2:30pm
Tega Cay, SC
2429 Highway 160 West Tega Cay SC 29708
(803) 548-1440
7:30am-2:30pm
Indian Land, SC
1028 Edgewater Corporate Parkway Indian Land SC 29707
(803) 547-8007
7:30am-2:30pm
Myrtle Beach, SC
2005 Oakheart Rd. Myrtle Beach SC 29579
(843) 796-4433
7AM – 3PM
Charleston, SC
1319 Sam Rittenberg Blvd. Suite 109 Charleston SC 29407
(843) 402-6815
TEMPORARILY CLOSED
Virginia:
Roanoke, VA
5010 Keagy Road Suite E200 Roanoke VA 24018
(540) 595-7027
7AM – 3PM
Warrenton, VA
7373 Comfort Inn Dr Warrenton Virginia 20187
(540) 359-6391
7am-1:00pm Tue-Sat, Closed Sun-Mon
Ashburn, VA
43780 Central Station Dr. Suite 150 Ashburn VA 20147
(703) 729-0165
7AM – 3PM
Delivery and Order Online
In addition to dine-in, catering, and carry-out, Famous Toastery offers delivery as well. Based on the restaurant location, GrubHub, DoorDash, and ezCater apps deliver delicious breakfast meals from Famous Toastery.
Famous Toastery Charlotte Uptown
Located at 330 S. Tryon St, Famous Toastery Uptown is one of the most preferred breakfast spots in Charlotte. Stop by between 8am and 1:30pm Tuesday through Friday or 8am and 2:30pm Saturday through Sunday. You can also order online using ezCater. Make sure to tag their Instagram page on your stunning breakfast plate!
After your nutritious breakfast or lunch, head out to Menards to complete that home improvement project: 33 Unusual Ways to Save Big Money at Menards.