Mercari marketplace app is an online e-commerce platform for people to buy and sell their products. It initially launched in Japan and then expanded to the US and UK as well.
Today, about 350,000 items are listed on the app daily. People use it to sell (and buy) items such as:
Trendy clothes and shoes
Bags and backpacks
Hand tools
Electronics
​Camera equipment
Craft items
Household goods (kitchen utensils and furniture)
Jewellery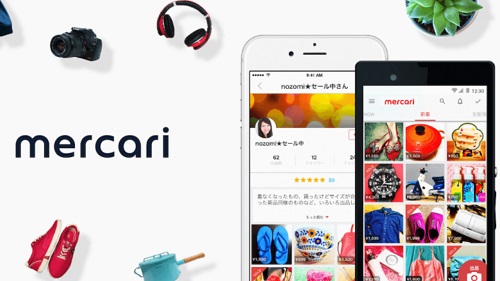 You can sell anything on Mercari except for drugs, alcohol, cigarettes, stolen goods, weapons, flammable liquids, and illegal things such as human body parts and live animals.
What Brings People To Mercari?
Why do people sign up on Mercari anyway? Especially when there are other alternatives available such as eBay and Amazon. What makes Mercari stand out? Here are seven reasons why people prefer Mercari over other online marketplaces.
Low market saturation on Mercari allows sellers to capture a bigger portion of the market. The competition is low here, so the sellers have ample opportunity to meet the demand and quote their own price.
Listing items on Mercari is not time-consuming because you don't have to fill in numerous fields.
No charges apply for listing items on Mercari; it's free.
You can sell a large variety of items on it; from jewellery to furniture, there's a place for every high-end item on it.
The selling fee is low on Mercari. Every time your item sells, Mercari takes 10% of your earnings, which it deducts from the amount your buyer pays.
As there are many options to choose from, shipping is easy and hassle-free. You can select free shipping, where you pay for the shipping instead of the buyer. Other options include shipping the item on your own or using one of the Mercari shipping labels (USPS, FedEx and UPS). You can compare the cost of each shipping label according to the weight class of your package.
The return policy of Mercari works in the favour of sellers. If your buyer doesn't return the package in three days, the sale is marked as complete automatically.
So, is Mercari legit and safe? Let's look at what people have to say about it.
Common Complaints From People Buying And Selling On Mercari
Before we dive into the tips for safe buying and selling on Mercari, let's go through some problems people face on the platform.
Seller's point of view
Here is what sellers have to say about Mercari on SiteJabber.
Little to no customer service. Whenever a seller files a complaint, Mercari tries to brush it under the carpet.
Mercari doesn't refund your shipping cost after the buyer cancels the order.
Buyers sometimes lie about the product being defective. They claim that it doesn't match with the pictures or the description. Mercari refunds them without consulting the seller and closes the case.
Buyer's point of view
Buyers on SiteJabber commonly complain about the following issues:
Slow response from the customer service in solving disputes.
Mercari rejects refund requests without explaining how to address the complaint.
There is no official way to state that you haven't received the items you've ordered.
Sellers falsely advertise their items. One buyer received the art glass they ordered in broken condition, which was not refunded. Another buyer ordered a new designer bag, but upon arrival, the actual bag wouldn't close and wasn't new either. Mercari, due to a high volume of complaints, didn't read through the buyer's request and denied the refund.
The three-day return policy doesn't work for buyers because it takes longer than that to validate the product received. A buyer ordered a Dyson hair styling system labelled as new under manufacturer warranty. However, after receiving the hair styling system and registering it with Dayson, they found out that it was counterfeit. Mercari didn't refund the Dyson hair styling system because they filed the complaint three days after they got the confirmation from Dayson.
Some sellers scam people by stealing their personal information.
15 Tips For Buyers And Sellers
Here are my 15 tips for both buyers and sellers on Mercari. These tips will help you steer clear of scammers and stay on the safe side of the internet.
1. Tighten The Security Around Your Personal Data
One way of staying safe while online shopping is to create strong passwords for your account. You can do this by adding symbols and numbers and using lower and uppercase letters in your password.
Text passwords, alone, cannot protect you. You should also layer it with other types of security systems such as fingerprint scanning, iris scanning, facial recognition, and pattern lock.
If you come across connection issues while using the Mercari app, check this post out for step by step solution: Unstable connection or round has ended. Please try again
2. Know What You're Getting Into Before Selling On Mercari
Reading up on how the payment method works on Mercari will help you understand how and when you will get paid for the items you sell. Mercari's payment policy states that the payment will be released to the seller after the buyer receives the product and leaves a review. However, if the buyer doesn't leave a review within three days, the order gets marked as complete automatically, and the payment is released.
3. Be Cautious Of Buying And Selling Online
Whenever you visit any website or webpage on the internet, there is a danger of hackers downloading malware on your device. With malware software, they can gain access to your network and other sensitive data on your device and then use it for financial gains.
Moreover, when you enter personal information in the fields that pop up on e-commerce sites, you increase the chances of people using that information to steal your identity.
Some can even use your home and business address and show up at your door uninvited. It can land you in potentially life-threatening situations. So be careful while picking out a website to buy or sell your items online and giving out personal information on it.
4. Don't Take Trading Outside The Platform
The business model for these e-commerce platforms is that they provide a space for sellers where they can advertise and sell their products. In return, they cut a certain percentage of commission out of each sale. This is why such websites have a strict policy against anyone communicating or selling off the platform after initial contact.
When a seller violates this policy, they face either a ban or suspension. However, this is not the only reason why it's neither in the interest of the seller or the buyer to connect outside the platform. Mercari has certain processes in place that prevent both the buyer and the seller from fraudulent activities and losing their money.
5. Document All The Details Of Everything You Sell Online
Keeping a record of everything you sell is not just a good but also important business practice. In certain situations, it can be a life-saver. When it comes to e-commerce, recordkeeping is not just about the financial accounts of a business; but also keeping track of the items you sell, the tracking number for all shipments, the order number of all sales.
Basically, anything that can serve as evidence that a particular sale was made. This kind of thorough recordkeeping can help when a buyer claims to have not received an order, in which case you can pull out a plethora of evidence to make a case for yourself that the item was shipped.
6. You Can't Sell Everything On Mercari
Like any other e-commerce platform, there are certain products that are prohibited from being listed on the website. Some of them are counterfeit items, weapons, alcohol and tobacco, drugs, digital items, and living things.
These regulations are in place in order to comply with local laws and are, therefore, prohibited on other platforms as well. In case of any user being found violating these rules and selling prohibited products, penalties like account suspension or listing cancellations are to be expected.
7. Accessibility Makes Mercari Convenient But Also Vulnerable
Mercari's business model is to make the experience of online shopping and selling as smooth as possible. The website is optimized for accessibility by making the process of creating listings and shipping products to customers, very easy. However, this ease of use comes with a catch.
The more smooth and simple Mercari makes the process of creating and running a virtual market, the more it gets vulnerable to scams and issues like seller payouts. The ease of use of the website in no way guarantees success. Therefore, in order to maximize your sales, sell authentic products and improve your customer service.
8. Learn To Identify Fake Accounts And Bots
One common scam on e-commerce websites is that of fake account creation and automated bot threats. Cybercriminals often make accounts with fake credentials or write automated programs to write fake reviews, gather personal data, create fraudulent transactions, spam a seller with fake orders, etc.
Websites are often reluctant to implement strict protocols for identity verification, so the real customers are not discouraged from using their service. Therefore, the seller needs to be vigilant in identifying fake and real buyers. In case you, as a seller, encounter a fake buyer, you must report them to the website and stop any communication with them.
9. Protect Yourself From Scammers
There are many common buyer scams in the e-commerce industry resulting in the loss of profit of the seller. These scams involve the exploitation of the seller's return policy to get free stuff from the website. Often these fake buyers claim that they didn't receive the item and claim a refund. Other times they lie that the item arrived damaged and ask for a refund.
10. Mercari Favors Customers
When it comes to Mercari's terms and conditions, there is a bias in favor of the customer. In case of a dispute, the platform is most likely to take the side of the customer, which makes it important for the sellers to be attentive about all procedures involving a sale.
They need to keep an organized and complete record of all their sales, only sell authentic products, provide timely feedback and service, have the necessary documents on their disposal in case of an issue, and be wary of dubious customers.
11. Before Buying, Be Diligent
To make sure you are getting the right product, do your research. Like any other purchase, you should go to the official website of the manufacturer to make sure the specifications mentioned on the website match the ones listed by the seller. Also, make sure the product in the photos is clear and shown from all angles.
12. Customers Like Reviews
When shopping online, the only way you can make sure you are getting the right product is to see what other customers have to say about a particular vendor. You can learn a lot by reading the experiences of other customers with a particular seller.
However, there are a couple of things you need to keep in mind when reading reviews under a particular product. Some vendors have paid/fake reviews on their websites, which give an inaccurate picture of a seller and their product.
Fraudulent reviews are pretty much useless if you want to know whether a seller is legitimate or not. Also, customers are more likely to only leave a review when they have a poor experience. So there is a bias against the seller when it comes to reviewing, which also gives a distorted view of their service. However, bad reviews are not all that bad.
Customers are more likely to look for bad reviews, which means they spend as much as five times longer on a website with bad reviews with an 85 percent increase in conversion rate. The more reviews a seller has, the better.
Research shows that customers want to see as many as 40 reviews to trust an average rating. However, even a small number of reviews is better than no reviews since a study shows that even as little as five reviews increase sales by 270 percent.
13. Check Your Order To Make Sure You Got What You Paid For
After you receive your order, you need to make sure you get the exact item you paid for. Try to make sure that each and every piece mentioned in the description and shown in the photos is there. If there are missing items, first contact the seller and ask them to mail the missing pieces.
In case the seller is unable to send in the complete product, you are entitled to a refund. As a buyer, you must make sure to confirm on the Mercari website that you received your order. This step is important for the transaction process of the website.
14. Don't Falsely Advertise, Don't Scam Customers
Experienced sellers, who have been conducting their business on e-commerce websites for a long time, know that the best way to make the most money is to carry out one's deals with complete honesty and transparency.
Every customer matters, the gains from false advertising products or scamming customers are far less in the long term compared to honest dealings.
Furthermore, dishonest dealings only create mistrust in the overall e-commerce industry in the minds of consumers, which harms the businesses of other people. There is a lot to lose and less to gain by being dishonest.
15. Feedback Is Everything
The most crucial difference between brick-and-mortar stores and online stores is that in the latter, there is no way of knowing whether an item you are purchasing is what you are seeing in photos.
Whether you are buying clothes, shoes, or electronics, there is no way to make sure that the item you will receive will meet your expectations. That is where the importance of customer reviews makes the world of a difference. You can get a rough idea of the quality of the product and a clear picture of the quality of service just by reading about other people's experiences.
On Mercari, reviews work in favor of the sellers as well. Since the seller can rate their experience too, protecting both the seller and the buyer from potential fraud.
Conclusion
Mercari stands out amongst other platforms in key ways like ease-of-use, various shipping options, lower commission rates, and less competition.
This platform is ideal for any small business owner, regardless of your niche, because not only does the platform provide a safe space to conduct business, but due to low market saturation, the small businesses don't have to compete with giants.
Although the platform removes a lot of barriers to starting a small business, there are certain things to keep in mind. This article goes over 15 tips that you need to consider to be safe and maximize your returns on Marcari, both as a buyer and a seller.