You get up early in the morning and start working at your desk all day long. Lunch comes and goes while you probably continue to sit on your chair. It's likely an unhealthy food, anyway. Then you drive home and get in front of the TV. Therefore, we spend our lives mostly sitting. When you realize it, that's when Horizon Fitness T101 Treadmill comes into the picture.
The negative effects of a non-active lifestyle don't show up immediately. Just like we can't notice the effects of other bad habits at a young age, we can't see the damages of our sedentary lives right away. As a result, we think everything is going well because we compare ourselves to the people in our inner circles.
Why is Running The Perfect Exercise?
Walking and running are the most basic ways to make our lives healthier. No matter the time and distance, they activate the muscles especially in the lower body and increase the blood pleasure for a faster and better metabolism.
Today, you may be out of breath after 10 minutes of running but the important thing is that you have started a routine that will benefit you in long term. However, the distance you are able to run will increase over time and you will feel a lot more energetic and productive.
What are The Benefits of Running?
When you get tired by running, your sleep problem will disappear
Since it works your abdominal muscles, your digestion improves
The liver works better as a result of improved digestion
It regulates your blood pressure
Running allows you to breathe better
It helps the secretion of the happiness hormone (serotonin) as well as dopamine
The insulin level is regulated when you run
Your cholesterol level will drop if you regularly run
It helps to reduce the frequency of migraine headaches and all types of headaches in general
Running is one of the most effective ways of burning fat and controlling weight
Horizon Fitness T101 Treadmill
Although walking and running outside are very beneficial, you may not be able to leave home for various reasons (I know, several excuses popped up in your mind already).
With a little bit of motivation, you get by seeing your running neighbors, you might have started to search for treadmills online. In this post, I will talk about one of the popular ones, Horizon Fitness T101 Treadmill. This treadmill has proven itself in terms of price and performance ratio.
How Much is Horizon Fitness T101 Treadmill?
It starts from $649 with two-day free shipping.
Technical Features of Horizon Fitness T101 Treadmill
Display: Three LED Windows
Tread Belt: 20 ″ x 55 ″
Drive Motor: 2.5 HP
Speed ​​Range: 0.5–10 mph
Incline: 0–10 percent quick control
Cushion: 3-Zone
Folding: Yes
Weight Capacity: 300 lbs.
Dimensions: 70 ″ L x 34 ″ W x 55 ″ H
How to Lubricate Treadmill Belt in Horizon T101?
9 Effective Features of Horizon Fitness T101 Treadmill
Let's talk about the features that will make you put this treadmill in the center of your living room:
1. Folding Design
This is a must-have feature especially for apartment living. Folding and unfolding of T101 is as easy as pushing and pulling the tread belt.
How do You Collapse a Horizon T101 Treadmill?
2. Speakers
You can continue your workout program with music thanks to the Bluetooth speakers. You will enjoy exercising more with your own music list.
3. Incline
The Horizon Fitness T101 Treadmill can provide up to 10% faster incline control. Therefore, you can do more challenging and effective exercises.
4. Price
You can have the comfort of indoor running without breaking your budget. With under $800 price tag, we consider T101 as an affordable option.
5. Warranty
This is probably one of the longest-lasting treadmills in the market. It comes with a lifetime frame and motor warranty. The warranty period is 1 year for parts and 1 year for labor.
6. Cushioning
With the shock-absorbing, 3-zone, variable response cushioning system, you can exercise for a longer time in a much more comfortable way.
7. Console
The Horizon Fitness T101 Treadmill has 3 LED windows to easily track your exercise data such as calories burned, distance, heart rate, incline, speed, and time.
8. Stability
T101 treadmill offers much more weight capacity (300 pounds) than other low to average budget treadmills. It allows you to have a more balanced exercise experience.
9. Awards
T101's proven quality resulted in Best Buy awards from communities like TreadmillReviews.net, Fitprof, Treadmill Doctor, and Treadmill Talk.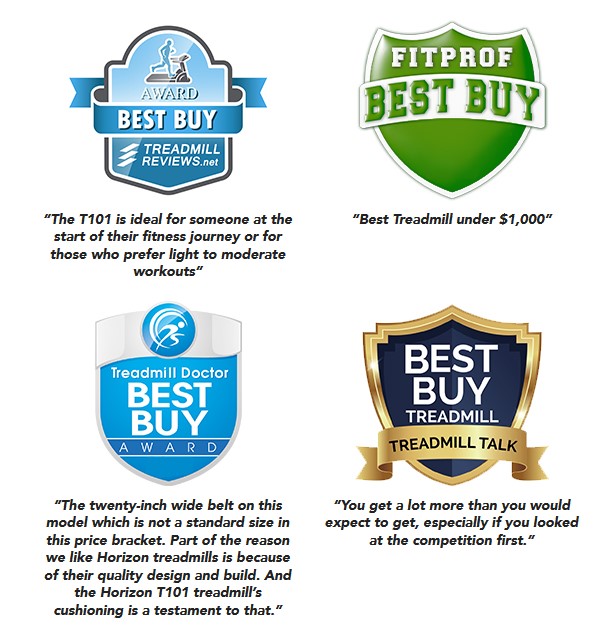 More into strength training than running? Check out Gold's Gym XRS 20 Workout Bench, one of the most practical home workout equipment.