One of the trickiest parts of writing a cover letter starts at the beginning, i.e., the cover letter greeting. Most of the time, you won't know who you are addressing. Is it a man or a woman? How do you address a cover letter when you don't know the contact name or gender? More importantly, how to address a woman in a cover letter?
Here's how you start:
1. Find The Name
Try to find out the name of the contact person. Some employers think poorly of an applicant who does not take the time to search the company's website and/or learn the name of the recruiter.
2. Don't Assume Their Gender
If you do manage to find a name, be careful not to assume the gender of the recipient. Many people have gender-neutral names, and some hiring managers may identify as a gender other than male or female.
Challenges While Addressing A Woman In A Cover Letter
If you find out that the hiring manager is a female, you may face the challenge of how to address her correctly. How do you address a woman if you're unsure of her marital status? What suffix should you use? Should you include her maiden name? These are common challenges that even professional writers face.
In this article, we're going to learn how to address a cover letter to a woman, and take a look at some examples to get you started.
To get access to proven cover letters and resume templates for getting started fast, visit our Dream Catcher Course.
What Salutations Can You Use to Address a Woman?
1. Ms.
The versatile "Ms." title helps you avoid the mistake of incorrectly referring to a hiring manager as "Miss" or "Mrs." When you're unsure of the recipient's marital status, this option is your best bet.
2. Miss
Miss refers to a woman who isn't married. If you choose to use this title, make sure you are confident in your decision; and that you have done your research on the job posting.
One way to find a hiring manager's professional title is by viewing the "our team" page on the company's website. Is she listed there? Is her title used? If not, it's best to go back to the safe "Ms." option.
3. Mrs.
Next, we have the title of "Mrs." followed by the hiring manager's last name. As you would expect, Mrs. is the professional title used for a married woman.
Again, before you use this title, make sure you have searched the job ad or company website to ensure this is what she is referred to. You may spend all day and still not find the recipient's title. If you're still unsure, use "Ms."
4. First Name
Addressing a hiring manager by their first name can be a risky first step. However, sometimes, you may need to contact the employer before you send your cover letter.
During your conversation, the hiring manager may tell you to call her by her first name. If this happens, you can go ahead and address her by her first name in your cover letter as well.
How to Address a Cover Letter to a Manager with a Non-Gender Specific Name
Full Name
As discussed earlier, many people have gender-neutral names. If you find the hiring manager's name but aren't sure of their gender, the best way is to include both the first name and the last name in your salutation. Remember not to use a title that reveals gender.
Some examples you can use are:
Dear Ashley Doe
Dear Taylor Smith
Dear Sasha Brown
While this is a useful tip, you may still want to include a title. With these types of non-gender-specific names, professional social media sites act as a helpful resource. Since many people add a photo to their profile, a simple search of a person's full name and their associated company could help you determine the hiring manager's gender.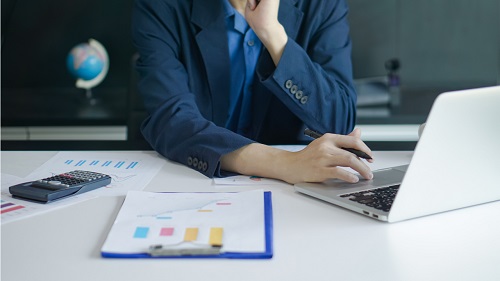 You can also contact the company's administrative assistant to get more information.
Job Titles
If you have extensively searched the company website and still can't pinpoint the exact name, don't fret. The company likely wants to keep its employee's information private.
In this scenario, the best way to go about this is by using a job title. Since your letter is about a job application, you can use "Dear Hiring Manager."
If no specific position title is available, you can address the letter to the department head. Sometimes generic salutations like "Dear Human Resources" or "Dear Sales Manager" will suffice, and show that you are addressing your letter to a specific audience.
To Whom It May Concern
Another generic greeting you can use is "To Whom It May Concern." However, addressing your letter in such a vague manner isn't a good look for someone genuinely interested in a job. Therefore, we suggest leaving this option as a last resort regarding how to address a woman in a cover letter.
Often, this salutation is suitable when you are addressing someone who does not have a personal relationship with you. This is because it prevents you from offending someone who might not like you using their first name. As a job applicant, it's best to remain professional to ensure you make a good first impression on the recruiter.
Cover Letters – General Tips
Writing a cover letter can be challenging. Apart from standing out, you should sound professional, especially if there is a possibility that other business managers or executives will read your letter.
1. Include a Subject Line
Never leave the subject line blank. Not only does this look unprofessional, but there's a high chance that your letter will end up in the hiring manager's spam mailbox. Your subject line should clearly mention your intentions.
The company may also be hiring for multiple positions. Therefore, to let the employer know what job you're looking for, you should list the job position in the subject line.
2. Keep it Professional
Even if you know the person you are greeting, it is good practice to keep the salutation professional. Using greetings like "Hi friend" or "Hey" will leave a negative first impression and might hurt your chances of getting the job.
Similarly, a generic greeting like Dear Sir or Ma'am is off-putting for most employers since it shows your lack of research on the company and its employees.
Also, make sure to include the correct punctuation immediately after the salutation. For a business salutation, it is recommended to use two line breaks or double-space between your salutation and the body of the letter.
3. Body of the Cover Letter
The body of your cover letter is the most important section. It lets the employer know what position you are applying for, and will determine whether you get selected for an interview. This is where you sell yourself as a candidate. Review the job description and mention attributes that closely match the ones they're looking for.
In most cases, a good email cover letter is the first step to securing your dream job. Make sure that your email cover letters sound as professional as any other documents you send.
4. Conclusion
If you have attached your resume, mention this in your conclusion. Thank the employer for considering you for the position. Then finish your cover letter by including information on how they can follow up. Finally, list your name and your email signature.
5. Signature
Your email signature should include your full name, phone number, email address, and a professional social media profile URL. So it is easy for the hiring manager to contact you.
Before You Send Your Cover Letter
1. Look Up Templates
It's hard to write cover letters from scratch. Lucky for you, there are tons of cover letter templates available for almost every job position. Start by reviewing these samples, and note down the formatting rules to ensure you send in a well-written email letter.
2. Customize Your Cover Letter
Sometimes, similar job listings have different requirements. The goal of a cover letter is to show the hiring manager that you're the ideal candidate for the job. Customizing your cover letter will help you highlight your skills and how they match the job requirements.
3. Proofread It
Before you click on that send button, make sure that you have left no room for errors. If you can, have a friend proofread your cover letter and resume to pick up any typos or grammatical errors.
Cover Letter Sample
Still unsure of how to address a woman in your cover letter? Or what tips to use from this article? Don't worry, we've included a cover letter sample to give you an idea about the dos and don'ts of business letter writing.
---
Shania Garcia
15 Edward Avenue
Townsville, New Hampshire 03160
555-555-5555
May 16, 2022
Ava Doe
APQ Industries
41 Main Street
Townsville, New Hampshire 03160
Dear Ms. Doe:
I was excited to see your ad for the sales assistant position in your Townsville offices.
I have three years of experience as a sales assistant. In my most recent role at XYZ Corp., I have demonstrated numerous times that I am a result-oriented individual with exceptional customer service skills. In previous roles, I have coordinated daily store activities, worked on constant improvement of customer satisfaction, promoted new products, and developed and implemented sales expansion strategies.
My other skills include:
Reducing unnecessary retail expenses by 12%
Improving customer satisfaction with provided services by 15%
Awarded the Employee of the Month for meeting all assigned goals
Experience in the industry and passion for the product
Kindly find attached my resume for your review. Please contact me if you have questions or would like to schedule an interview. Thank you for your time and consideration; I look forward to hearing back from you.
Sincerely,
Shania Garcia
---
A well-written cover letter won't make a big impact without an effective resume. There are six important sections you should have in a particular order and formatting. We explain how to create an eye-catching resume that brings you interview invitations in our online job search and career master course.