With the 115 Destiny Quotes we have prepared for you, we would like to remind you that life is a miracle and how lucky we are to witness this miracle. We do not know whether you believe in fate or not, perhaps you describe the events that happen to you as luck or coincidence.
Whatever your point of view, you can read these quotes to make sense of the good and bad events you will encounter throughout your life.
115 Handpicked Destiny Quotes You Should Read Often
"If you create an act, you create a habit. If you create a habit, you create a character. If you create a character, you create a destiny."
Andre Maurois
"Destiny's what you make of it. You have to face whatever life throws at you."
Darren Shan
"Everyone should have the freedom and opportunity to shape their own destiny."
Mohamed Bin Issa Al Jaber
"How you define life determines your destiny. Your perspective will influence how you invest your time, spend your money, use your talents, and value your relationships."
Rick Warren
"In real open source, you have the right to control your own destiny."
Linus Torvalds
"Destiny is the push of our instincts to the pull of our purpose."
T. D. Jakes
"We have to live with our loneliness and the destiny that drives each person to the order of things."
Cecile de France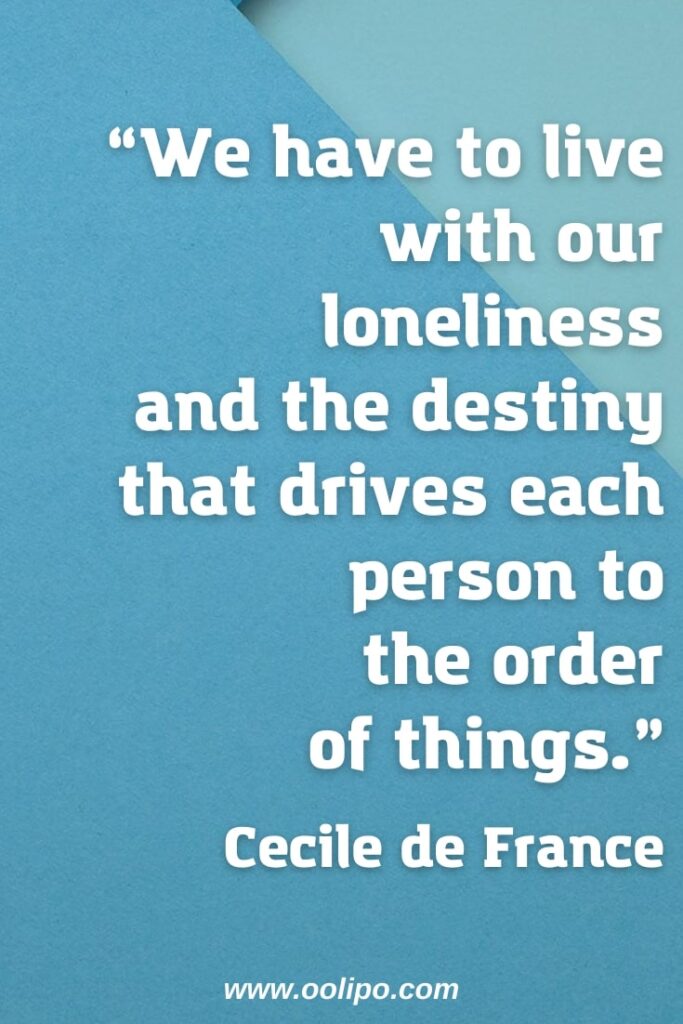 "We are not at the end of our progress but in the beginning. We have but reached the shores of a great unexplored continent. We cannot turn back. It is man's destiny to ponder on the riddle of existence and, as a by-product of his wonderment, to create a new life on this earth."
Charles Kettering
"If you are serious about your destiny and arriving at success then you must stick to your plan and follow the road map. It's not good enough to have the plan in your head. The plan must be written down."
Tony A. Gaskins Jr.
"Actions are the seed of fate deeds grow into destiny."
Harry S Truman
"We must all remember life doesn't have to be fair for us to succeed if we take change and become masters and creators of our own destiny."
Dan Pena
"I want to go behind the scenes as well as on screen. I think you have to make your own destiny in this world."
Avan Jogia
"No man is great enough or wise enough for any of us to surrender our destiny to. The only way in which anyone can lead us is to restore to us the belief in our own guidance."
Henry Miller
"There is a destiny that shapes our ends rough, hew them as we will."
Frank Harris
"Destiny is not a matter of chance; it is a matter of choice. It is not a thing to be waited for, it is a thing to be achieved."
William Jennings Bryan
"I do believe that one way to have a destiny is to choose one."
Melinda McGraw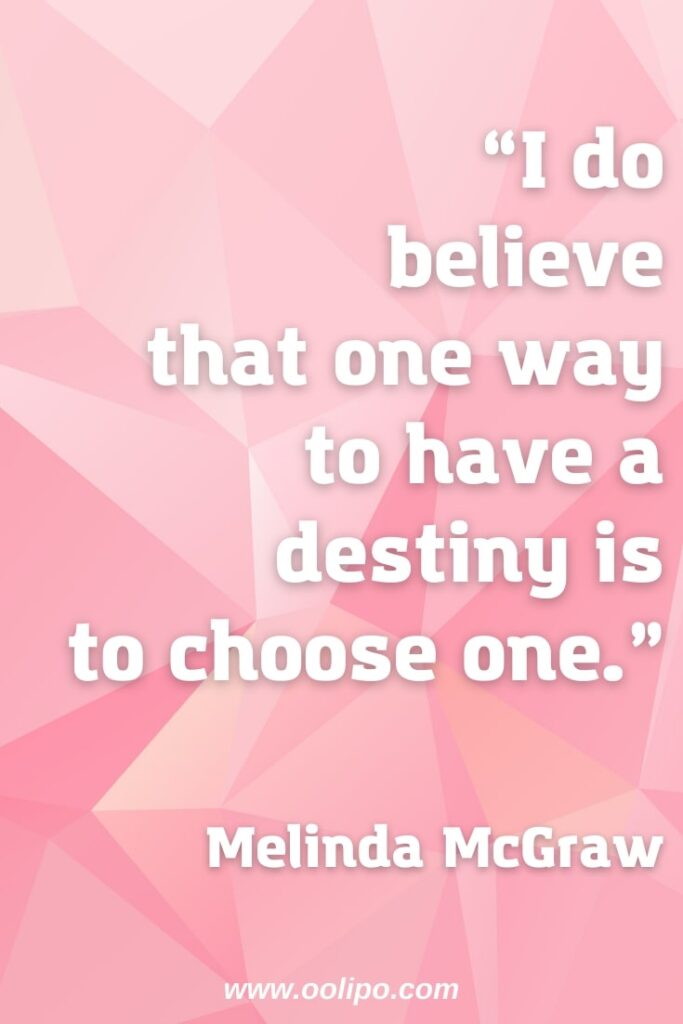 "All the world's a stage and most of us are desperately unrehearsed."
Seán O'Casey
"There are only two lives we might live: our dream or our destiny. Sometimes they are one in the same, and sometimes they're not. Often our dreams are just a path to our destinies."
Glennon Melton
"Your soul knows the geography of your destiny. Your soul alone has the map of your future, therefore you can trust this indirect, oblique side of yourself. If you do, it will take you where you need to go, but more important it will teach you a kindness of rhythm in your journey."
John O'Donohue, Anam Cara: A Book of Celtic Wisdom
"It doesn't have to be on Valentine's Day. It doesn't have to be by the time you turn eighteen or thirty-three or fifty-nine. It doesn't have to conform to whatever is usual. It doesn't have to be kismet at once, or rhapsody by the third date. It just has to be. In time. In place. In spirit. It just has to be."
David Levithan
"Don't worry if people think you're crazy. You are crazy. You have that kind of intoxicating insanity that lets other people dream outside of the lines and become who they're destined to be."
Jennifer Elisabeth, Born Ready: Unleash Your Inner Dream Girl
"You shape your own destiny."
Chet Atkins
"I run my own world, because I very firmly believe that my destiny, my future is in my hands and I don't want to blame anybody else for the path that I take."
Vijay Mallya
"Don't confuse poor decision-making with destiny. Own your mistakes. It's ok; we all make them. Learn from them so they can empower you!"
Steve Maraboli, Life, the Truth, and Being Free
"If you want to identify me, ask me not where I live, or what I like to eat, or how I comb my hair, but ask me what I am living for, in detail, ask me what I think is keeping me from living fully for the thing I want to live for."
Thomas Merton
"If you do not create your destiny, you will have your fate inflicted upon you."
William Irwin Thompson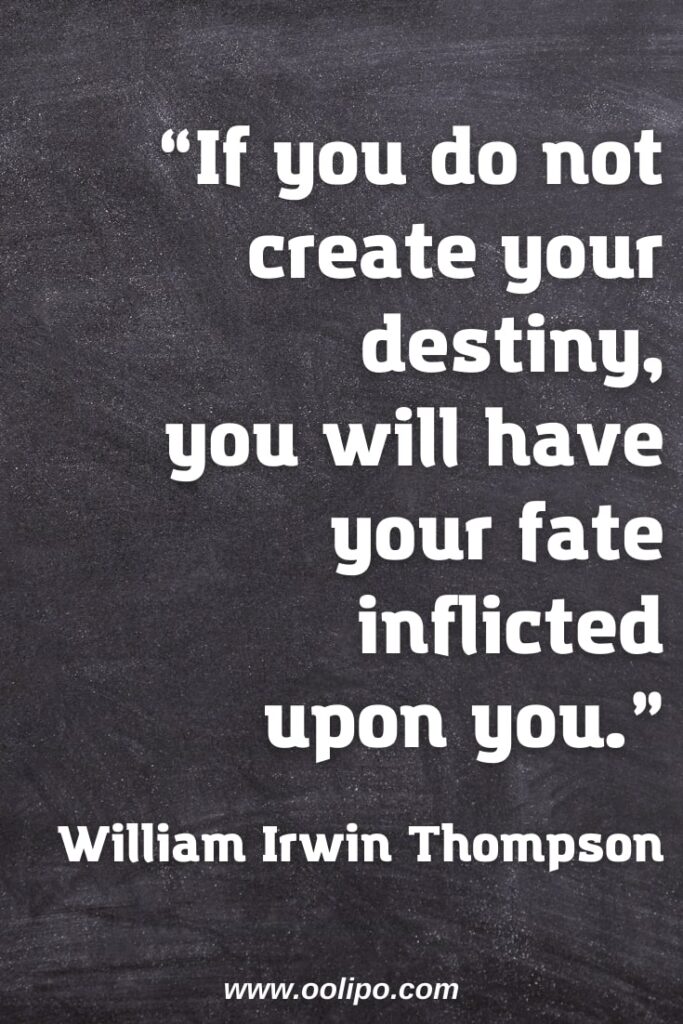 "That which we manifest is before us; we are the creators of our own destiny. Be it through intention or ignorance, our successes and our failures have been brought on by none other than ourselves."
Garth Stein, The Art of Racing in the Rain
"There are winds of destiny that blow when we least expect them. Sometimes they gust with the fury of a hurricane, sometimes they barely fan one's cheek. But the winds cannot be denied, bringing as they often do a future that is impossible to ignore."
Nicholas Sparks, Message in a Bottle
"Even if things don't unfold the way you expected, don't be disheartened or give up. One who continues to advance will win in the end."
Daisaku Ikeda
"I am the sum total of everything that went before me, of all I have been seen done, of everything done-to-me. I am everyone everything whose being-in-the-world affected was affected by mine. I am anything that happens after I'm gone which would not have happened if I had not come."
Salman Rushdie, Midnight's Children
"I have always believed, and I still believe, that whatever good or bad fortune may come our way we can always give it meaning and transform it into something of value."
Hermann Hesse, Siddhartha
"Does the walker choose the path, or the path the walker?"
Garth Nix, Sabriel
"You are not the victim of the world, but rather the master of your own destiny. It is your choices and decisions that determine your destiny."
Roy T. Bennett
"Destiny is usually just around the corner. Like a thief, a hooker, or a lottery vendor: its three most common personifications. But what destiny does not do is home visits. You have to go for it."
Carlos Ruiz Zafón, The Shadow of the Wind
"I told you. You don't love someone because of their looks or their clothes or their car. You love them because they sing a song only your heart can understand."
L.J. Smith
"Some things are destined to be — it just takes us a couple of tries to get there."
J.R. Ward, Lover Mine
"Sometimes the dreams that come true are the dreams you never even knew you had."
Alice Sebold, The Lovely Bones
"The only person you are destined to become is the person you decide to be."
Ralph Waldo Emerson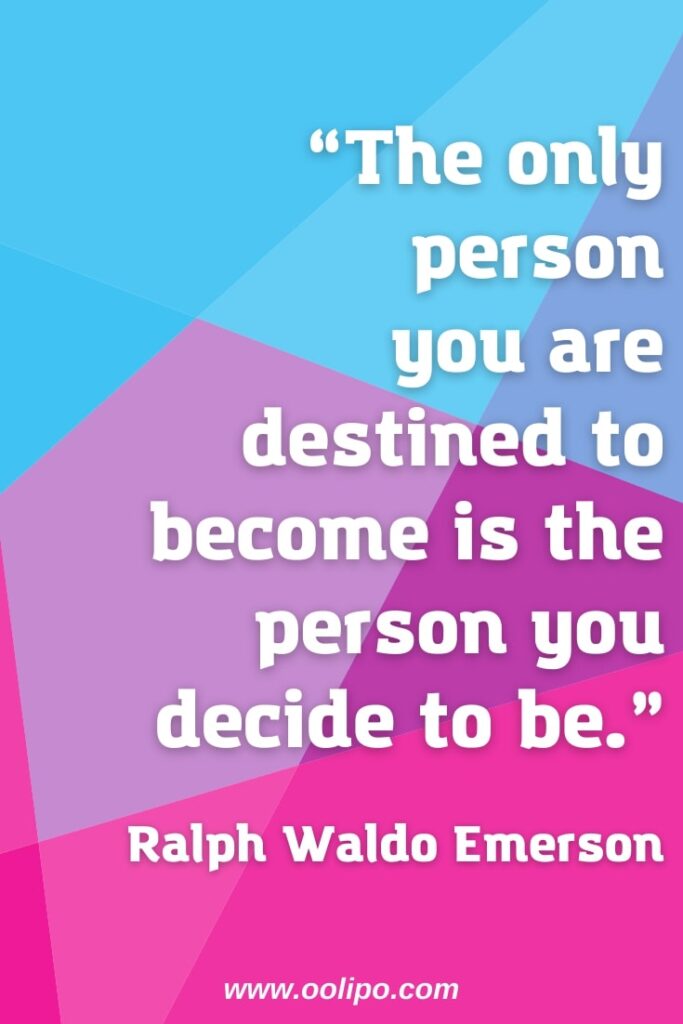 "There's nowhere you can be that isn't where you're meant to be…"
John Lennon
"No one saves us but ourselves. No one can and no one may. We ourselves must walk the path."
Gautama Buddha, Sayings Of Buddha
"There are no wrong turnings. Only paths we had not known we were meant to walk."
Guy Gavriel Kay, Tigana
"It is not in the stars to hold our destiny but in ourselves."
William Shakespeare
"Letting go means to come to the realization that some people are a part of your history, but not a part of your destiny."
Steve Maraboli
"Your destiny is to fulfill those things upon which you focus most intently. So choose to keep your focus on that which is truly magnificent, beautiful, uplifting and joyful. Your life is always moving toward something."
Ralph Marston
What is Destiny?
Destiny usually means predetermined events, in some belief systems it is said that we cannot change our destiny, in others we can determine our destiny. But when examined in-depth, our choices determine our destiny, and we can always choose to be better people.
Do we create our own destiny?
If we did not create our destiny, our choices would be meaningless, our existence would have no meaning. We were born and started to learn about the life, we gained experience and we set a path for ourselves with what we learned. The conditions we are in today are a result of our choices, but we cannot ignore external factors.
We can also call it luck. Even though we have done everything we can, an unforeseen event can happen and things we call bad can turn out to be good and things we call good can end up badly. We should not be in a hurry to judge what we have done as wrong or right.
Do Best Get Best Quotes
"If you've done the work, done the training sessions, when you go into these games, you should feel ready. All you can ask is, 'Did you do your best, and try your best,' and then what happens, happens."
Becky Sauerbrunn
"Live like you're already dead, man. Have a good time. Do your best. Let it all come ripping right through you."
Jeff Bridges
"You should always be well and bright, for so you do your best work; and you have so much beautiful work to do. The world needs it, and you must give it!"
Marie Corelli
"Just do your best. I find that if I set that goal for myself and no one else, I feel good."
Cobie Smulders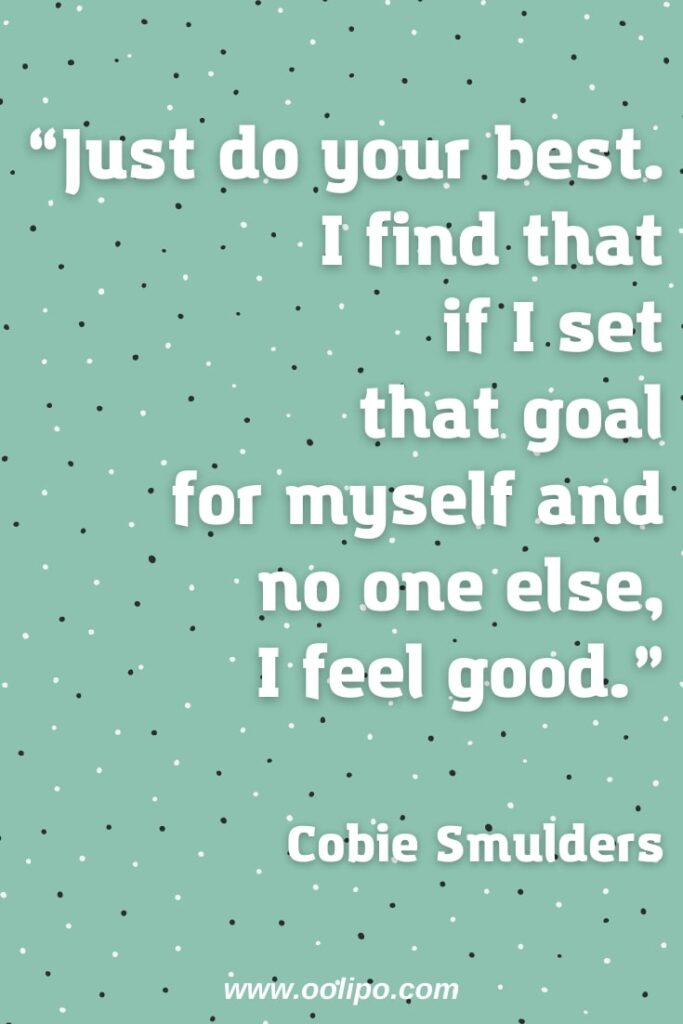 Treat your friends as you do your best pictures, and place them in their best light."
Lady Randolph Churchill
"When you love the music that you're going to play, of course you're going to do your best."
Beth Hart
"Regardless if what you do in the world, you do it good. You do your best, and you show up on time, and you leave and you do a good job, and you treat people the way you want to be treated."
Scott Eastwood
"Every single job is a challenge. You are walking into a new set, a new character, creating a world and trying to get comfortable to do your best work."
Felicia Day
"Under any circumstance, simply do your best, and you will avoid self-judgment, self-abuse and regret."
Don Miguel Ruiz
"Every job is good if you do your best and work hard. A man who works hard stinks only to the ones that have nothing to do but smell."
Laura Ingalls Wilder
"Conservation is key to preserving many of the world's natural beauty spots, so do your best to help by keeping to designated footpaths and being a discerning souvenir collector."
Sheherazade Goldsmith
"In football, even when you do your best on the pitch, you can win or lose. That is the nature of the game."
Gianfranco Zola
"Love God; love others; do your best in all you do, even if you fall short!"
Bethany Hamilton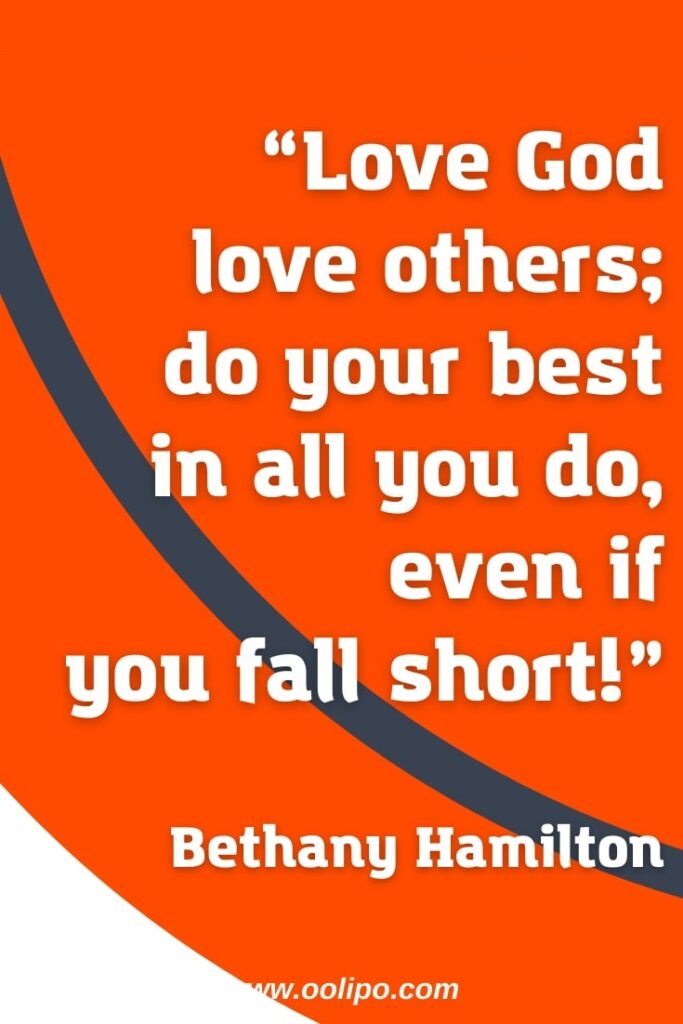 "You have to go out there and do your best and help the team win."
Carlos Ruiz
"Every game you play, you do your best."
Naby Keita
"You try to do your best at what you're getting paid for."
Sean Penn
"God creates us to compete. He creates us to win. It matters. But you've got no chance if you don't do your best."
Dabo Swinney
"I'd realize it's not worth our time to worry. You do your best, and God will put the right people in your path."
Taya Kyle
"We're here for such a short period of time. Live like you're already dead, man. Have a good time. Do your best. Let it all come ripping right through you."
Jeff Bridges
"I think on some level, you do your best things when you're a little off-balance, a little scared. You've got to work from mystery, from wonder, from not knowing."
Willem Dafoe
Sad Destiny Quotes
"I don't understand why destiny allowed some people to meet, when there's no way fort hem to be together."
Tinku Razoria
"Ir is destiny' phrase of the weak human heart! 'It is destiny' dark apology for every error! The strong and virtuous admit no destiny."
Edward G. Bulwer-Lytton
"Destiny is not something that is in our hands. We should solely rely on our efforts and determintion rather than our destiny."
Anurag Prakash Ray
"They were seeking out the treasure of their destiny, without actually wanting to live out their destiny."
Paulo Coelho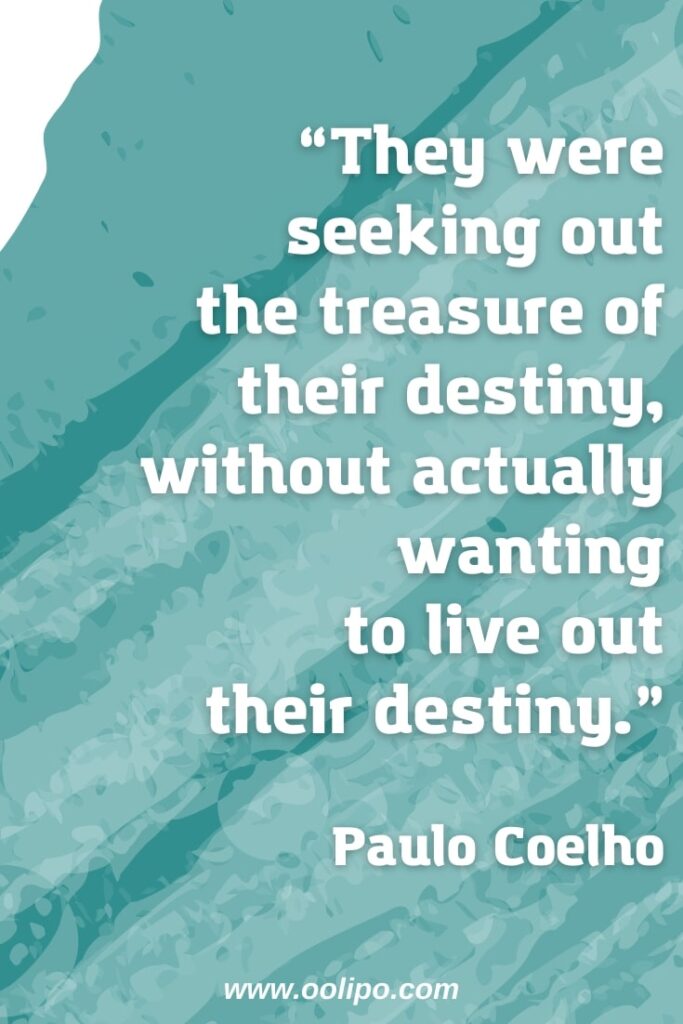 "I watched the spinning stars, grateful, sad and proud, as only a man who has outlived his destiny and realizes he might yet forge himself another, can be."
Roger Zelazuy
"It is moments of decision that shapes destiny. Decision taken with cool mind has long term implication on your destiny. Decision taken in haste may play havoc and ruin your destiny."
Anil Sinha
"And all the bustle of departure – sometimes sad, sometimes intoxicating – just as fear or hope may be inspired by the new chances of coming destiny."
Madame de Stael
"Musical compositions can be very sad – Chopin – but you have the pleasure of this sadness. The cheap consolation is: you will be happy. The higher consolation is the pleasure and recognition of your unhappiness, the pleasure of having recognised that fate, destiny and life are such as they are and so you reach a higher form of consciousness."
Umberto Eco
Love Destiny Quotes
"Metagapism is the belief that love is the ultimate reality, literally God and the one shared soul, and the source, natüre and destiny of all."
John K. Brown
"You don't find love, it finds you. It's got a little bit to do with destiny, fate, and what's written in the stars."
Anais Nin
"Creativity itself doesn't care at all about results – the only thing it craves is the process. Learn to love the process and let whatever happen, without fussing too much about it. Work like a monk, or a mule, or some other representative metaphor for diligence. Love the work. Destin will do what it wants with you, regardless."
Elizabeth Gilbert
"One love, one heart, one destiny."
Bob Marley
"No love, no friendship, can cross the path of our destiny without leaving a mark on it forever."
Francois Mauriac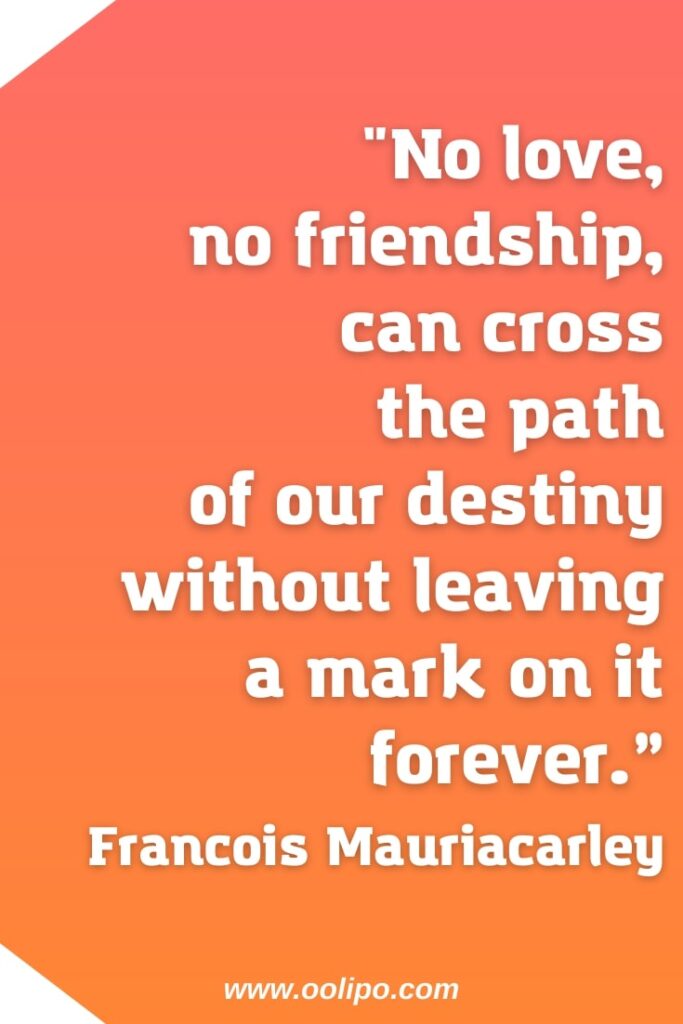 "Stop rejecting that unique pathway that was designed exclusively for you. Embrace your destiny, respect yourself and love others."
Auliq Ice
"The true dividing line between people is whether they are capable of being in love with their destiny."
Hannah Arendt
"Nature is at work. Character and destiny are her handiwork. She gives us love and hate, jealousy and reverence. All that is ours is the power to choose which impulse we shall follow."
David Seabury
"Working harder is not a sustainable solution and it's not how people meet their destiny. It's time to get more creative. Instead of choosing one thing we love over something else we love, we must ask, 'how can I do both?' And, then, we can find solutions."
Maynard Webb
"For me love is when I don't limit you, I put you on the rainbows… beyond eternity of time and destiny."
Seema Gupta
"Because true love never keeps a man from pursuing his destiny."
Paulo Coelho
"Adapt yourself to the life you have been given; and truly love the people with whom destiny has surrounded you."
Marcos Aurelius
"France, for example, loves at the same time history and the drama, because the one explores the vast destinies of humanity, and the other the individual lot of man."
Alfred de Viguy
"When love ends, we cry out against destiny. When friendship ends, we cry out against our friend."
Mason Cooley
Bad Destiny Quotes
"The press always compared my family to the Kennedys – so much bad luck."
Ginevra Elkann
"As a leader, you don't get too high on the highs or let the bumps balance down. Every leader over time has probably equal amount of good luck or bad luck – or, you could argue, has good opportunities or challenges."
John T. Chambers
"A lot of people work extremely hard and through no fault of their own – bad luck, the wrong environment, unfortunate circumstances – struggle to survive."
Justine Musk
"I've been on the side of it where you have bad luck and slow cars."
Kevin Harvick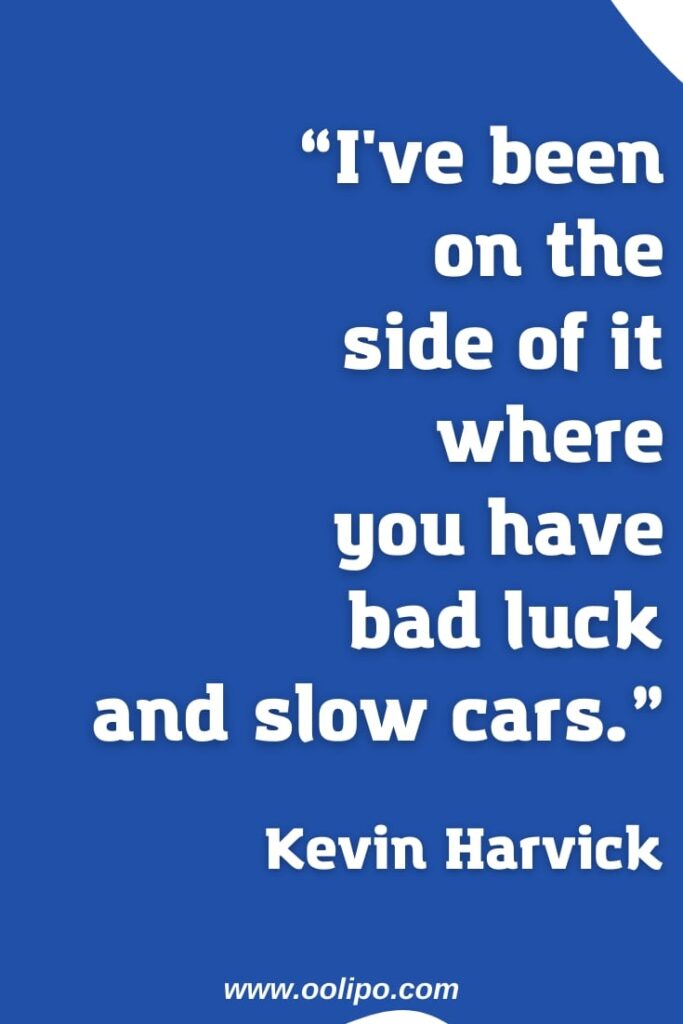 "I've just had some bad luck. I've had every injury known to man. I understand how people think, 'How can this be happening all the time to Gerry Cooney?' But it did."
Gerry Cooney
"Fess up, 'Hunger Games' fans: Does anyone care about Peeta or find him attractive? He's the Ron Weasley of the series: he gets points for callow valor and sympathy for his run of bad luck, but he remains a pasty, earnest bore."
Richard Corliss
"I'm very superstitious, and I think it's bad luck. You don't have to show your love by tattooing it."
Priya Sachdev
"My mother believed in curses, karma, good luck, bad luck, feng shui. Her amorphous set of beliefs showed me you can pick and choose the qualities of your philosophy, based on what works for you."
Amy Tan
"'Jurassic Park' isn't about the bad luck of three people who keep getting thrown into the same situation."
Colin Trevorrow
"My dad had a lot of bad luck. You could see his suffering, his terrible suffering, living a life that was disappointing and looking for another one."
Sam Shepard"
"SpaceX does seem to have had a run of bad luck, with its first three launches all failing."
Henry Spencer
"I don't know if that's a year's bad luck, or if that's how it works. But stealing a Christmas tree – that can't be a good thing, karma-wise."
Adrian McKinty
"If being a spokesman for a generation is a fleeting occupation, being a symbol of an era is downright dangerous for anyone who has the bad luck to outlive it."
Jay McInerney
"I get so disenfranchised reading the news, because global borders and lines we've created are completely unnecessary. That's just another person on the other side, and it's his bad luck that he was born there and it's my good fortune that I was born here. It's all kind of illogical."
Eddie Huang
"It's Obama's bad luck that he got elected just as the mayhem of the foreclosures, the banking collapse, and the General Motors disaster was accelerating the surge in unemployment to warp speed."
Tina Brown
"The economic recession in America wasn't caused by bad luck; it was caused by bad Republican policies. But the Republican candidates are doubling down on the same flawed policies that led to the loss of 3.6 million jobs in the final months of 2008 and gravely affected middle class families across America."
Debbie Wasserman Schultz
"The misfortune to be born when I was, where I was. That was a piece of bad luck."
Ruth Prawer Jhabvala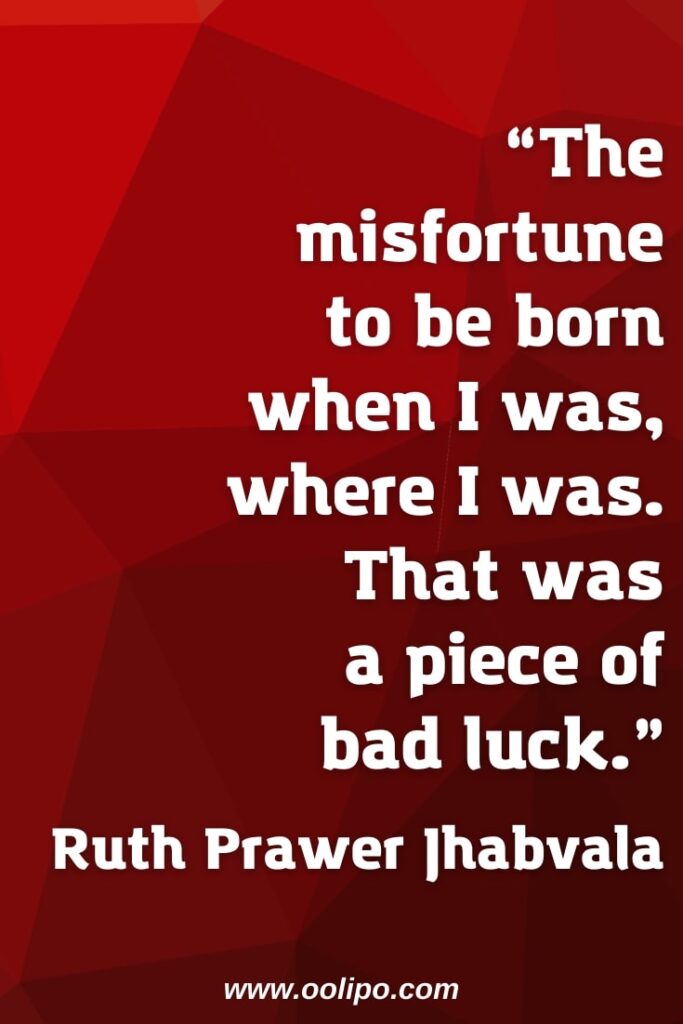 "Look, I haven't had hardly any bad luck. I never look at it that way."
Rick Majerus
"I think I'm bad luck for Tiger because he missed the cut in Charlotte with me. But yeah, those are two of the best players of all time. Tiger's the best player of all time in my opinion, so when he's not in the field, it's a relief because he's such a great player."
Webb Simpson
"When you are writing a song for something else, if you are doing something for money, I always think that's bad luck."
Chad Kroeger
"The deepest thing in any one is the conviction of the bad luck that follows boasting."
Gertrude Stein
You are My Destiny Quotes
"I told you. You don't love someone because of their looks or their clothes or their car. You love them because they sing a song only your heart can understand."
L. J. Smith
"Love is our true destiny. We do not find the meaning of life by ourselves alone – we find it with another."
Thomas Merton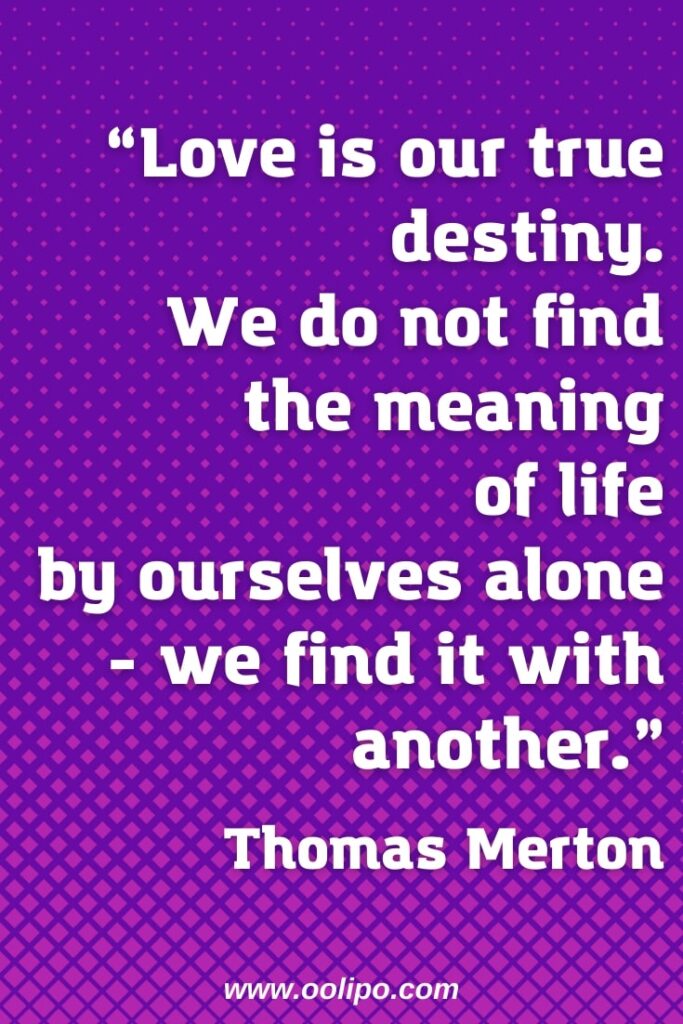 "There are gays and lesbians in every country, so there should be no discrimination against them just because of their destiny."
Hun Sen
"Of course, it hurt that we could never love each other in a physical way. We would have been far more happy if we had. But that was like the tides, the change of seasons–something immutable, an immovable destiny we could never alter. No matter how cleverly we might shelter it, our delicate friendship wasn't going to last forever. We were bound to reach a dead end. That was painfully clear."
Haruki Murakami
"Adapt yourself to the things+ among which your lot has been cast and love sincerely the fellow creatures with whom destiny has ordained that you shall live."
Marcus Aurelius
Destiny Quotes on Love
"I didn't fall in love with you. I walked into love with you, with my eyes wide open, choosing to take every step along the way. I do believe in fate and destiny, but I also believe we are only fated to do the things that we'd choose anyway. And I'd choose you; in a hundred lifetimes, in a hundred worlds, in any version of reality, I'd find you and I'd choose you."
Kiersten White
"I don't know how I ever lived before You are my life, my destiny Oh my darling, I love you so You mean everything to me."
Neil Sedaka
"When people walk away from you, let them go. Your destiny is never tied to anyone who leaves you, and it doesn't mean they are bad people. It just means that their part in your story is over."
T. D. Jakes
Please share this page on Pinterest to spread goodwill and motivation!