With almost $275 billion in sales in 2020 and a market value of over $2 trillion, it is clear why Apple Inc. is among "the big five" IT companies in the USA. Founded 45 years ago in a garage by Steve Jobs, Steve Wozniak, and Ronald Wayne, Apple has long been known for its innovation and user-accessible personal technology.
Although the company had substantial success prior, in 1984, Apple exploded on the market. At the time, the mission statement of Apple was, "To produce high-quality, low cost, easy to use products that incorporate high technology for the individual. We are proving that high technology does not have to be intimidating for noncomputer experts." Apple's mission was realized with the introduction of the Macintosh – the first mass-market personal computer with an integrated user interface and mouse. Since then, and through many phases and changes, Apple has continued to follow its mission and vision to the delight of consumers.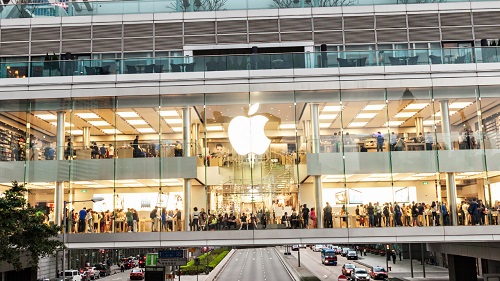 Let's dive into Apple's current mission statement and vision statement a little further.
Mission Statement
Apple's current mission statement is "to bring the best user experience to its customers through its innovative computer hardware, computer software, and services."
A company's mission statement is a concise breakdown of why it exists. It should guide the actions and direction of the organization. So, let's break down the parts of the mission statement and how Apple adheres to its mission.
#1 Bring the best user experience to its customers
When evaluating whether or not a company is delivering the best (or even a "good") user experience, we have to determine what makes a user experience good or bad and how Apple is working towards delivering the best user experience they can.
Generally, user experience is a measure of how a user interacts with a product or service. It is based on their perceptions of utility, ease of use, and efficiency. Essentially, is it useful, is it easy to use, and is it efficient?
Are Apple products useful? In modern society, you may as well be living on a deserted island if you do not have access to some kind of contemporary technology. Apple products are primarily phones, tablets, and personal computers. They also have a wide variety of products within those categories that meet the needs of different users. For example, your retired auntie will have different technology needs than a videographer or graphic designer. Whether for personal or business use, Apple products are most definitely useful.
Are Apple products easy to use? Admittedly, everyone has a different level of technological literacy. That being said, Apple has a long-running history of releasing products designed to be accessible for the average person's skill set. Not only do they put effort into developing user-friendly interfaces, but they are also an industry leader in integrated assistive technology for disabled users. With features like voice control, assistive touch, and customizable shortcuts in addition to all of the available downloadable apps, Apple has made their tech easy to use for everyone.
Are Apple products efficient? As with most user experience evaluations, efficiency is a subjective topic. Generally speaking, Apple products are quick and easy to use, resulting in users being able to accomplish what they want to achieve in a short period of time. They are continually upgrading the hardware and software of their consumer electronics, working towards faster and more efficient interfaces.
Looking at those three criteria, it can be said that Apple is making an effort to deliver the best user experience for their customers. They are constantly working towards improving on it as available technology becomes more advanced.
#2 Innovative computer hardware, computer software, and services
Apple is known for being innovative. They have consistently developed and released new products and services throughout their history. We've already touched on the Macintosh computer, but there is a lot more than Apple has done to disrupt the market. Not only do they change with the times, but in many cases, they have been the cause of the change.
While digital music devices and .mp3 players existed, Apple was the first to innovate the iPod, which has an easy user interface that changed the way consumers purchase and listen to music. It was the start of the shift from collecting music in its physical form to enjoying it in its digital form. With the iPod, people could choose not to buy an entire album but could pick and choose which songs they wanted to purchase. They could also store and carry around their music collections in their pockets, ready to enjoy anytime.
With the added innovation of iTunes, users could organize and expand their digital collection of music, movies, and TV shows. The ease of digital access to these products eventually leads to digital media popularity like podcasts and vlogging.
#3 Mobility at the center of the focus
The iPhone has had a massive impact on consumer electronics. The smartphone industry has boomed since the iPhone made smartphones accessible for average users. Previously smartphones or Personal Assistant Devices were reserved for the business community. Now, iPhones are one of the most popular mobile phones globally, especially for less savvy users.
Tablet computers were around in the early '90s and '00s, but the introduction of the iPad in 2010 changed everything. Previous to the iPad, tablets were more like tiny, terrible versions of PCs or were very basic Personal Assistant Devices. The iPad was different from a personal computer, and it was different from a smartphone. It was a brand new innovation, and it changed the market for portable devices.
It's not just their flagship line of products that have had impacts on consumer electronics either. Their popularity, technology, and relativity have resulted in the widespread use of earbuds (vs. headphones), touchscreen interfaces, Bluetooth technology. Outside industries like app development and mobile payment organizations could only exist in tandem with companies like Apple.
As Apple continues to innovate with products like the iWatch, AppleTV, and the worst kept secret in tech – the Apple Car, we know that they are holding true to their mission of developing innovative hardware, software, and services.
Vision Statement
Apple Inc. does not technically have a published vision statement. However, Apple CEO Tim Cook said, "We believe that we are on the face of the Earth to make great products, and that's not changing. We are here to make the best products on Earth and to leave the world better than we found it." While this is not officially Apple's vision statement, it is widely regarded as such.
Where mission statements are regarded as the day-to-day reason for a company's purpose, a vision statement is an aspirational statement meant to provide a clear direction for the company's future goals.
#1 Make great products
Apple strives for excellence. It is clear that they produce high-quality products that are not only functional but also visually striking. They will not release products until they are sure they are ready for market and have delayed releases for that very reason. They are never willing to compromise on quality. They are committed to never cutting corners to deliver products faster or cheaper.
Not only are they dedicated to releasing great products, but it could be argued that their services and support are also excellent. Any interaction with their customer support is typically a good experience, no matter how frustrating the situation may be to start with. They stand by their products and work towards excellence in customer satisfaction.
#2 Leave the world better than we found it
On Apple's website, there is an entire page dedicated to their environmental policies and procedures. They take their green initiatives very seriously and take action to leave the world better than they found it literally. They are currently a carbon-neutral company, and by 2030 their products will be as well.
Here are some of the steps they are taking:
Design with recycled materials
Reduce the amount of energy their products use
Increase energy efficiency in their offices, retail stores, data centers, and factories
Use renewable energy like solar, wind, and hydro (since 2018, all sites have been run on 100% renewable energy)
Avoid creating greenhouse gasses throughout their facilities and in their supply chain
Investing in forest and ecosystem restoration
Using safer chemicals in their products and manufacturing
Reducing, reusing, and returning as much water as possible to the local environment to reduce their impact on the water system
Offering trade credits for old devices so they can be safely and adequately recycled for free
Publishing environmental reports for all of their devices to ensure their customers are informed about their impacts on the environment
For a massive corporation with many opportunities to ignore its impact on the environment, Apple acknowledges it and reduces it as much as possible. If they continue on this path, Apple will most certainly leave the world better than they found it.
Conclusion
Apple is a consumer electronics leader in accessibility for the average person, innovation, and green initiatives. They continue to deliver what they promise consistently, and it keeps customers coming back for more. They clearly follow the meaning and message behind their mission and vision statements, and they can only improve from here.